Encanto's Original Story Would Have Been Wildly Different
Disney's "Encanto" has officially enchanted audiences with its musical tale of a Colombian family blessed with gifts of magic. They can carry churches, make flowers bloom, heal wounds, change shape, and see the future — save for Mirabel (Stephanie Beatriz), the second youngest grandkid, and the only one to not have a magical talent. She finds her own place in the Madrigal family, though, when she saves their miracle from crumbling away forever.
Directors Jared Bush and Byron Howard told D23 that they wanted the movie to revolve around these questions: "How well do we truly know our families? And how well do they know us?" When building the story, they had a few other important pieces to include — it's a musical, has a Latin American setting, and involves a large extended family — but the rest wasn't set in stone. In fact, the story could have been totally different because of one character, in particular.
Bruno wasn't always the sad uncle living in the walls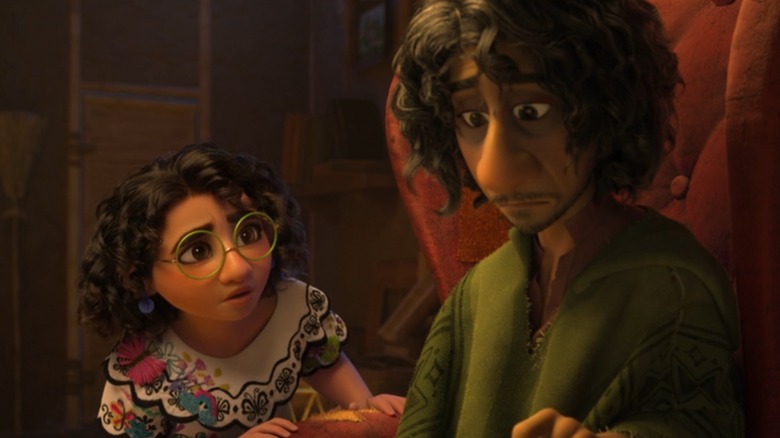 Walt Disney Studios/Disney+
At first, there was no rule regarding talking about Bruno (John Leguizamo). Early in the "Encanto" story process, he wasn't an outcast of the community. In fact, he wasn't even Bruno — but instead named Oscar. "It was very difficult, in the early versions, not to let it become a buddy movie between Mirabel and Bruno," one of the film's directors, Byron Howard, told Empire. "He was actually Mirabel's age at one point. We tried him as kind of a chubbier, funnier uncle who she met earlier in the movie."
However, once Howard and Jared Bush delved further into the implications of Oscar's — er, Bruno's — gift, they found a new angle for the character. "We thought about how tragic that would be, because he's delivering the truth. He's telling people what's going to happen, but people don't want to hear bad news," Howard said. And thus, Bruno moved into the walls, giving us one of the most heartbreaking scenes of the movie.
Much of the final "Encanto" story revolves around this missing Madrigal, with Mirabel and Bruno connecting over being the family's black sheep, so it would have been a radically different movie without that poor reputation haunting him. Not to mention, without that change, we wouldn't have Lin-Manuel Miranda's "We Don't Talk About Bruno" — the hit song breaking Disney records with its popularity. So, while being shunned is certainly a tragedy for Bruno himself, it ultimately strengthened the movie for the rest of us.