The Blood In Ready Or Not Was Good Enough To Eat
Every so often a horror movie will come along that seamlessly blends chills and thrills with dark comedy, hitting a sweet spot that audiences didn't even know they wanted. Matt Bettinelli-Olpin and Tyler Gillett's "Ready or Not" is a surprising horror-comedy that does just that, as it wowed theatergoers when it first arrived back in 2019. It follows newlywed Grace (Samara Weaving) who must survive a night of being hunted by her new in-laws before she really becomes a member of the family.
The film has an 88% critic rating on Rotten Tomatoes, and a review in the Chicago Reader makes a point to praise Samara Weaving, explaining "it's nothing short of cathartic to cheer her on and echo the rage that quickly consumes and empowers her." Grace joins the ranks of other final girls like Ellen Ripley (Sigourney Weaver), Laurie Strode (Jamie Lee Curtis), and Sidney Prescott (Neve Campbell) who take matters into their own hands by taking the fight to their respective villains. Grace fights off the Le Domas family before they wind up falling to the perils of their own curse in a truly bloody finale.
But Weaving revealed that all the fake blood in "Ready or Not" was actually good enough to eat.
Samara Weaving says the fake blood was delicious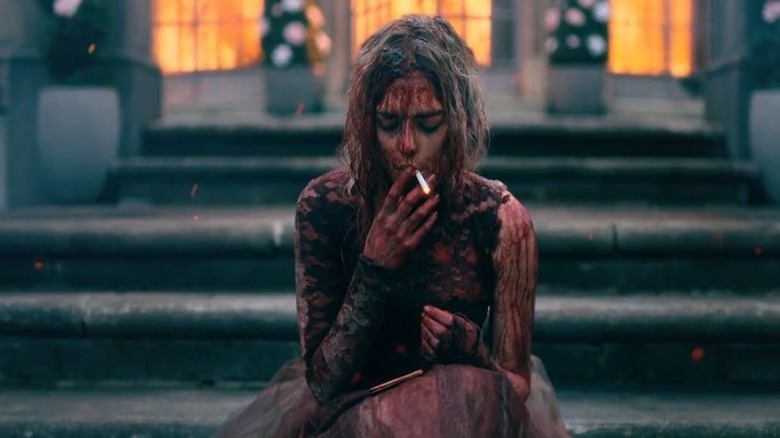 Fox Searchlight
During press for "Ready or Not" back in 2019, Samara Weaving told Rotten Tomatoes that the fake blood they used in the film tasted "delightful," before explaining that "it's like caramel syrup." That's definitely a good thing for the cast because "Ready or Not" is one of the bloodiest horror films released in theaters of the last few years. Although, the record for the most amount of fake blood used in a horror film is still held by Fede Álvarez's "Evil Dead" which debuted back in 2013.
The gloriously bloody ending of "Ready or Not" sees Grace surrounded by the exploding members of the Le Domas family after they fail to fulfill the requirements of a curse put on them by a mysterious individual known only as Mr. Le Bail — who is heavily implied to be the devil.
While telling Rotten Tomatoes what it was like to shoot that scene, Weaving described the day as "delicious" because she was doused in fake blood while filming. The star also noted "for the guts and innards they used banana and jelly, so it was like dessert," which does sound pretty tasty. Although the only problem is that "it gets very sticky so your eyelids can't open up for a while." Oh dear.
With "Ready or Not" under their belt, it's easy to see why directors Matt Bettinnelli-Olpin and Tyler Gillett were tasked with 2022's self-aware slasher, "Scream." Hopefully they brought the recipe for fake blood with them.