Why The Jackass Crew Doesn't Believe Johnny Knoxville's Retirement Plans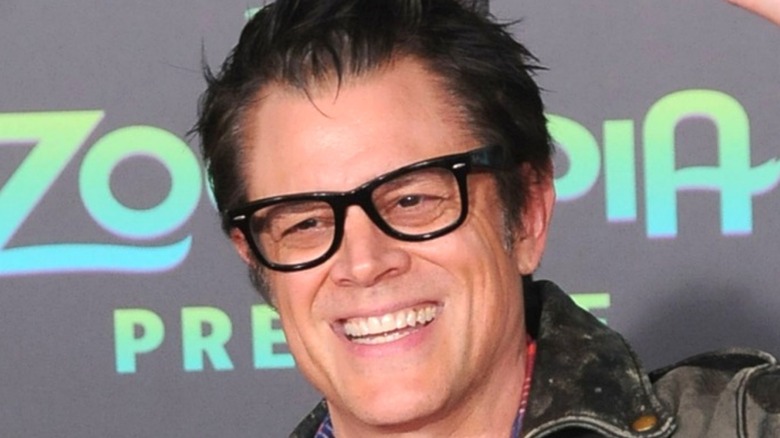 Barry King/Getty
"Jackass Forever" just released in theaters on February 4 and it's already making headlines. Despite the global pandemic, fans turned up to the theaters to catch the crude comedy film and it took the number one spot at the box office with $23.5 million in ticket sales, per Bloomberg. The film beat out the long-running hit, "Spider-Man: No Way Home," and the big-budgeted "Moonfall," which earned a measly $10 million, to claim the top spot.
It's been 12 years since the entire crew got together in "Jackass 3D," but while the cast has gotten older, its audience stays young. The latest film's success is largely thanks to the new, younger audience — specifically in the 18 to 34 age range — who accounted for 67% of the crowd (per Deadline).
However, after 20 years of insane stunts, the franchise's leading man, now grey-haired and a father of three, Johnny Knoxville, has said "Jackass Forever" will be his last hoorah. "You can only take so many chances before something irreversible happens," he told GQ. "I feel like I've been extremely lucky to take the chances I've taken and still be walking around."
But it doesn't seem like the "Jackass" crew is fully convinced of Knoxville's retirement plans.
Johnny Knoxville has planned on retirement before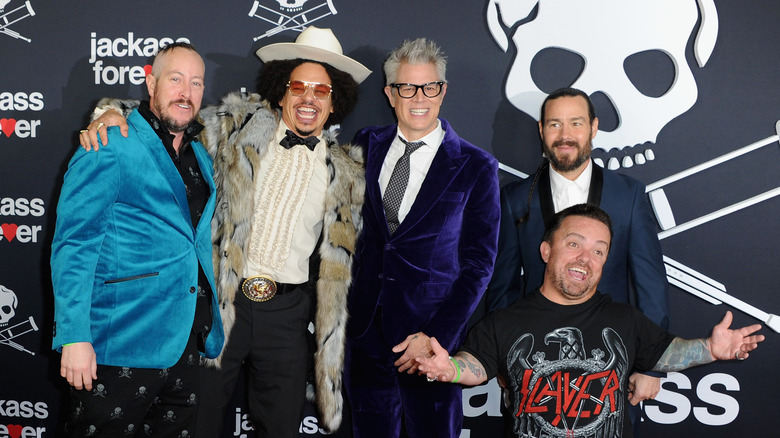 Albert L. Ortega/Getty Images
As noted by IMDb, "Jackass" started as an MTV show in 2000, filled with daring and oftentimes gross stunts performed by Johnny Knoxville, Steve-O, Dave England, Bam Margera, and several other crew members. The franchise took off with the release of its first film in 2002, and the rest is history. The crew has performed hundreds of stunts over the years, which have resulted in plenty of injuries, but it would seem "Jackass Forever" takes the cake for the most dangerous. In fact, Steve-O said on his YouTube channel that he made more trips to the hospital during the production than any of the other films combined (via E News).
Potential injuries no doubt played a role in Knoxville's retirement from "Jackass" films, but according to his "Jackass Forever" crewmates, he's planned on retiring before. When asked by ScreenRant about Knoxville's last "Jackass" film, Danger Ehren said, "He says that every time," to which Dave England agreed. Ehren then added, "We all say it. We don't know."
But according to Knoxville himself, he would try to stay out of any stunt work in future projects. "I mean, if there was another one, I'd do my best to sit behind the camera with Jeff [Tremaine]," he said to ScreenRant. "I, historically, haven't been that great at that but I would do my best." However, Tremaine said he doesn't sit still behind the scenes for long: "As soon as I blink, he's right out there, getting the worst of it."