The Staggering Number Of NCIS Episodes Pauley Perrette Actually Filmed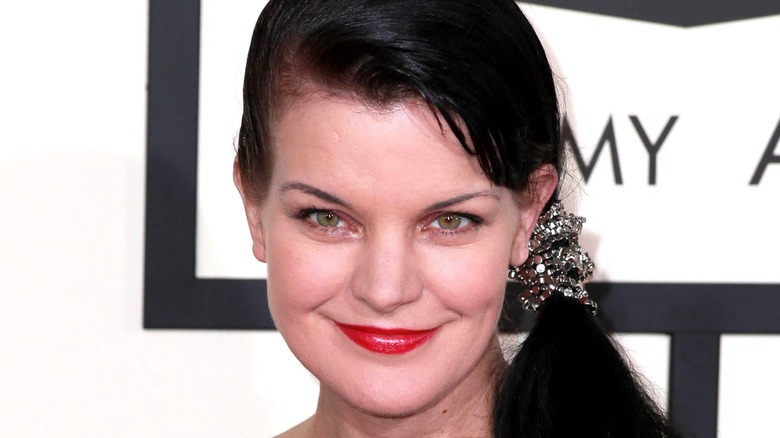 Kathy Hutchins/Shutterstock
CBS' hit crime procedural "NCIS" is currently in the midst of its 19th season, and when a show has been on the air for that long, it's natural for the cast to have had some shakeups. Considering the series first premiered way back in 2003, it's incredible to consider the fact that any of the original cast are still around all these years later. Series staples like Leroy Jethro Gibbs (Mark Harmon), Dr. Donald "Ducky" Mallard (David McCallum), and Tim McGee (Sean Murray) have appeared in every season thus far, though, with Harmon exiting "NCIS" in the 4th episode of Season 19, the show's original cast looks to be on the verge of extinction.
One of the biggest losses from the main cast of "NCIS" came back in 2018 when Abby Sciuto (Pauley Perrette) left the series for good. Abby was the cheerful forensics specialist with a fascination for all things macabre and morbid. Despite her quirky personality, though, she was a serious professional who often played a crucial role in cracking each case the team took on. Abby was another iconic member of the series' original cast and the impact she's had on the show is undeniable. That said, some fans might still be surprised to learn the incredible number of episodes that Perrette actually filmed during her time on "NCIS."
Perrette starred in over 350 episodes of NCIS
According to IMDb, Pauley Perrette starred in a total of 354 episodes of "NCIS." However, with two of those episodes being ones in which Perrette was credited, but did not actually appear, that puts the total number that she filmed at 352. That number is impressive all on its own, but even more when you consider that the series has aired a total of 426 episodes to date, meaning Perrette has starred in close to 83% of the series as a whole. There are many actors who never reach 350 episodes period in their lifetime of work, let alone while starring in the same show.
In the series, Abby Sciuto's departure is caused by an attempt on her life by a hitman near the end of Season 15. An MI6 agent named Clayton Reeves (Duane Henry) sacrifices himself to save her, and she quits her position with NCIS as a result. She is severely wounded during the attack, and after recovering, she moves to England, where she intends to start a charity in honor of Reeves and his sacrifice. Her departure marked a change that would impact the world of "NCIS" forever, and it's clear that Perrette's immense contribution to the series will not be forgotten any time soon.