Candice King To Appear In The Originals Season 5 Premiere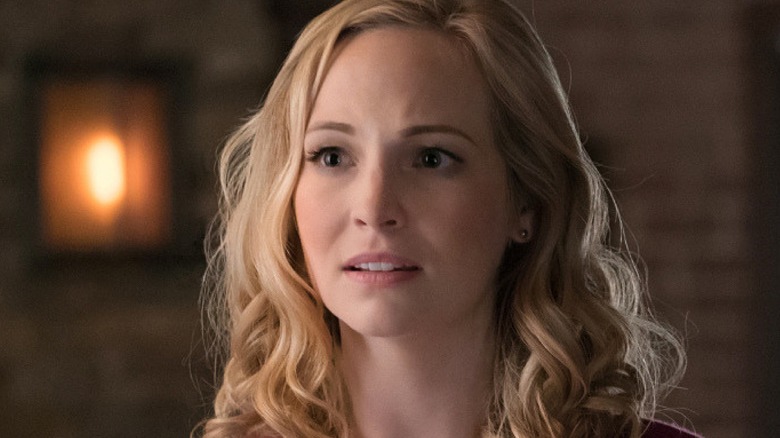 Caroline is reuniting with Klaus. TVLine reports that former The Vampire Diaries star Candice King is set to appear on the season 5 premiere of The Originals, which will air at some point in 2018.
There is no word yet on how many episodes King has signed on to appear in, and it's unclear how exactly she will come into the fold of the show. However, with Caroline's explosive relationship with Klaus still enthralling many a Vampire Diaries fan, it makes sense that the show's writers would choose to bring her over. There are quite a few ways in which Caroline could come across the show's characters as well, with the most obvious option coming through the Salvatore Boarding House, the school for gifted children that Caroline and Alaric opened at the conclusion of The Originals' parents series.
The school counts Caroline's on-again, off-again romantic partner Klaus Mikaelson as its primary donor, and it recently enlisted his daughter Hope as a student. (The Originals' fifth season will see a big time jump, with The Last Tycoon's Danielle Rose Russell taking on the role of a teenage Hope.) It would make sense for Klaus to encounter Caroline while dropping Hope off at school, although it seems unlikely that the show would leave such a potentially huge moment just at that. 
If fans get their way, sparks will fly during the pair's reunion and Caroline will get to stick around the world of The Originals for a while longer. This is something which TVD and The Originals creator Julie Plec has previously said she would be interested in, revealing after the parent show's finale that she looks forward to playing around with the crossover elements of the two shows to see what she can make for the future. 
It will likely be a while before we get to see The Originals' season five premiere, but it's exciting to hear that they have already locked down King for an appearance. While we wait to learn more about her role on the show, read up on the untold truth of The Vampire Diaries.