The Vampire Diaries Creator Talks Spin-Off Ideas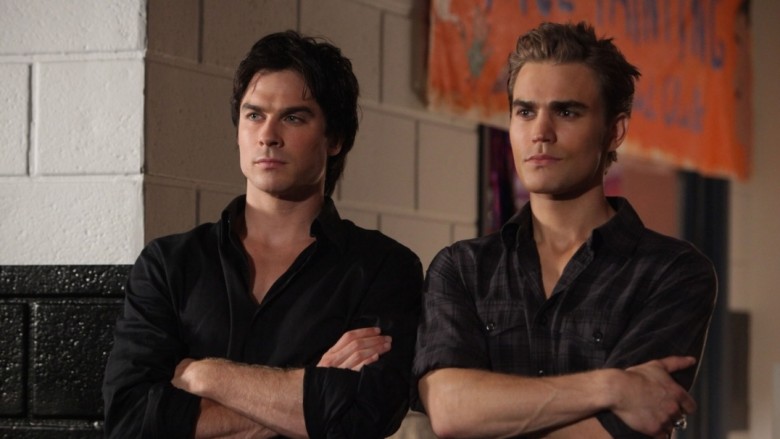 Warning: This post contains spoilers for The Vampire Diaries series finale.
The Vampire Diaries may have officially come to an end on Friday, but showrunner and co-creator Julie Plec says that this isn't necessarily the last we have seen of the Mystic Falls gang. Plec told Entertainment Weekly that she hopes that some of the characters can cross over to spin-off The Originals; however, with the New Orleans-set Vampire Diaries spin-off one of the few CW shows yet to earn a renewal for next season, Plec also has another plan in mind.
"I could see our universes coming together in five years, 10 years, when people miss the shows," she said. "There's still stories to be told for The Originals that our characters here very smoothly and seamlessly fit into, so if we don't get to do that while The Originals is still on the air, I think that one day, if somebody wanted it badly enough, it could exist."
The finale left plenty of room open for more stories to be told, ending with a voiceover from Damon and Elena teasing that they have led a "long and happy life." "That leaves a nice 70-year window to fill in the blanks," Plec said, adding that, while Stefan met his tragic end in the finale, there are still ways that he could return in the future.
Plec also teased a possible second spin-off for the show in an interview with The Hollywood Reporter, noting that she has a story in mind following Candice King's Caroline and her school for supernatural children that were mentioned in the finale. While Plec says that Caroline and Joseph Morgan's Klaus (who funds the school) won't interact on The Originals season four, there is potential for the two to meet up in the future.
"Obviously our timelines did not match up, so Caroline and Klaus are not coming face-to-face in this season," she said. "That being said, we do have crossover elements in the upcoming season of The Originals that's about to start airing, and it all brings it back to what I see as a future for either The Originals or another piece of the franchise to launch off of the end of The Originals. So I look forward to being able to play around in that sandbox and see if I can make something of it."
With the popularity of The Vampire Diaries and the show's creator behind it, it's quite possible that we could see a spin-off of the mystical show at some point in the future. In the meantime, though, read up on some interesting facts about how the show came to be.