The Real Reason Johnny Knoxville Keeps Putting Bulls In Jackass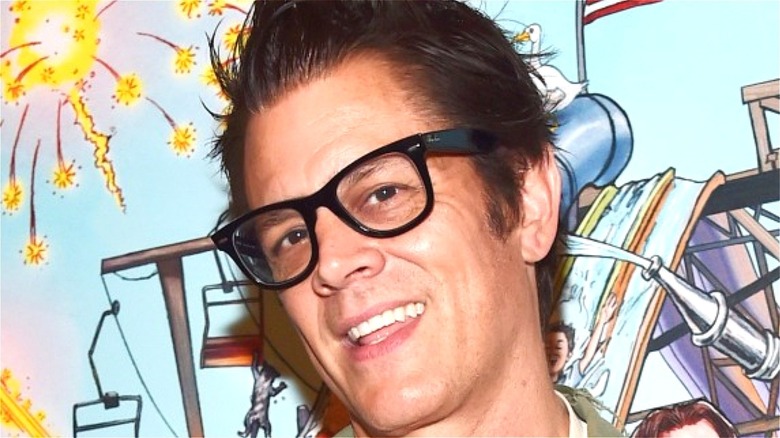 Alberto E. Rodriguez/Getty
For more than two decades, the cast of "Jackass" has been shocking audiences with their increasingly extreme stunts. From their original three-season run on MTV to the various spin-offs and feature-length films that followed, the franchise proves that watching people hurt themselves in absurd ways will always be funny.
"Jackass Forever" reunites the ever-growing band of daredevils as they conjure up new ways to combine slapstick comedy and body horror. The film is said to be their most painful yet — and they have a track record to prove it. While Steve-O and Johnny Knoxville were both hospitalized for injuries involving a treadmill and band instruments, the latter "Jackass" star suffered brain trauma after attempting a stunt that put him back in the bullring.
Bulls have always been a staple in "Jackass" stunts, whether the guys are trying to pull dollar bills off their horns or are dangling from a four-way teeter-totter as they leap to avoid getting gored. While Knoxville's co-stars admit that it's hard to watch him get in front of the aggressive animals, he just can't stay away from them.
Knoxville says bulls provide 'great footage'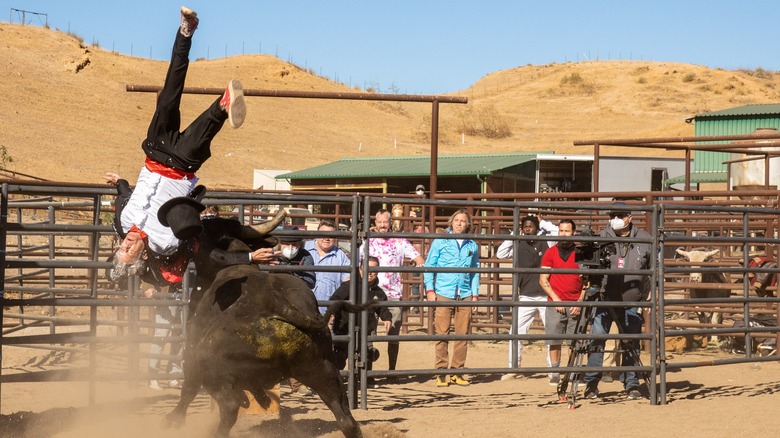 Sean Cliver/Paramount
Despite walking away from his latest "Jackass" stunt with a brain hemorrhage, a broken wrist, and broken ribs, Johnny Knoxville is in good spirits. He even joked about the injuries on Instagram. In an interview with Thrillist, he explained why he keeps going back to stunts with bulls and other horned animals.
"Bulls absolutely hate you. They want to kill you, and it's just wonderful footage," he told the outlet. "You know exactly what you're going to get when you film with a bull, and you're going to get great footage. They have never, ever disappointed us."
He went on to say that Steve-O dislikes when they work with bulls, and it leads to a "different energy" while filming. "Everyone's very concerned on the days that I'm messing with the bulls, because they can have forever consequences," he said, adding that they have ambulances on standby (via Thrillist).
Brain damage and other injuries aside, "Jackass Forever" sees the group embracing their older ages and proving that they're just as wild as ever.
"Jackass Forever" begins playing in theaters on February 4.