The Most Pause-Worthy Father Paul Scene In Netflix's Midnight Mass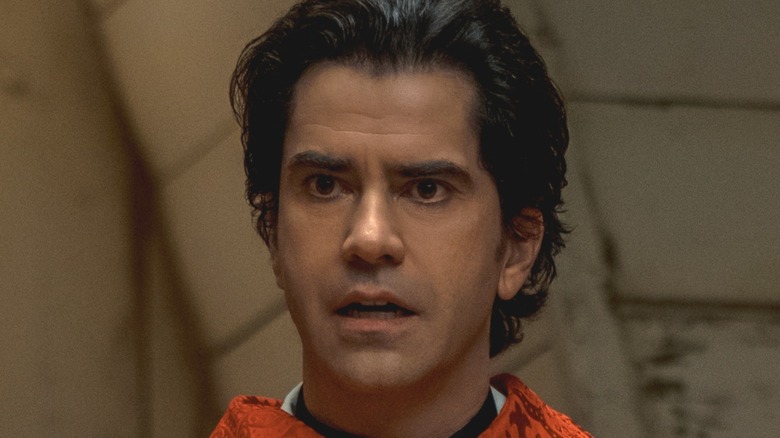 Eike Schroter/Netflix
"Midnight Mass" continued horror filmmaker and screenwriter Mike Flanagan's winning streak of original content for premium streaming network Netflix. The miniseries achieved an 86% on Rotten Tomatoes and was praised for its themes, performances, and slow-building terror. Among the show's most acclaimed aspects was that of Hamish Linklater's portrayal of Father Paul. "Midnight Mass" centers on Riley Flynn's (Zach Gilford) return to his home of Crockett Island after serving time in prison for killing someone while drunk driving. Soon after returning, the mysterious arrival of Father Paul causes many so-called "miracles" to happen to the residents of the island.  
Of course, being a horror show, these miracles are just a prelude to the reveal that a vampire-like creature has been behind the incidents, and was smuggled to the island by Father Paul. There are many spine-tingling moments featuring the character throughout the series, but there's one scene in particular that really became pause-worthy for fans of "Midnight Mass."
Father Paul's revelation in Episode 6 horrified Midnight Mass fans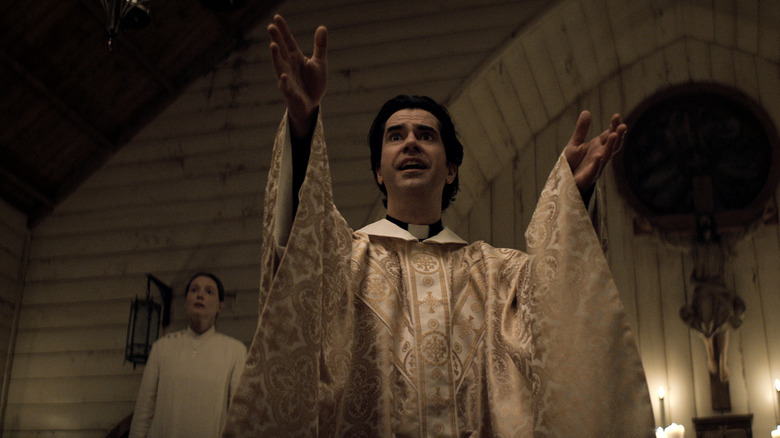 Courtesy of Netflix
Over on the r/HauntingOfHillHouse subreddit, the home for discussion of another popular Mike Flanagan series "The Haunting of Hill House," there is a series of discussion posts for the individual episodes for "Midnight Mass." A lot of fans were horrified by a particular scene involving Father Paul revealing his true identity as Monsignor Pruitt, the once-aging leader of the church for Crockett Island. This is the scene where he convinces the community to drink poison so that they can die and come back as vampires.
u/TheElStick wrote "that church scene was one of the most unsettling moments I've ever watched. I was uncomfortable from beginning to end." User u/GreasedTea echoed these sentiments, saying, "I felt sick when I realized what was about to happen, and it's been a while since horror has made me feel so genuinely horrified." u/JessBess700 offered some insight into the scene from the perspective of Flanagan, revealing that, "I was at the early screening and the Q&A. Mike Flanagan and Trevor Macy said that was the most difficult sequence they've ever had to film (especially during peak Covid), but it's by far their favorite."
There are a lot of big moments in "Midnight Mass," but the church scene in Episode 6 clearly stuck with a lot of fans of the show, and is a pivotal moment in the character arc of Father Paul.