Why Riley Flynn From Midnight Mass Looks So Familiar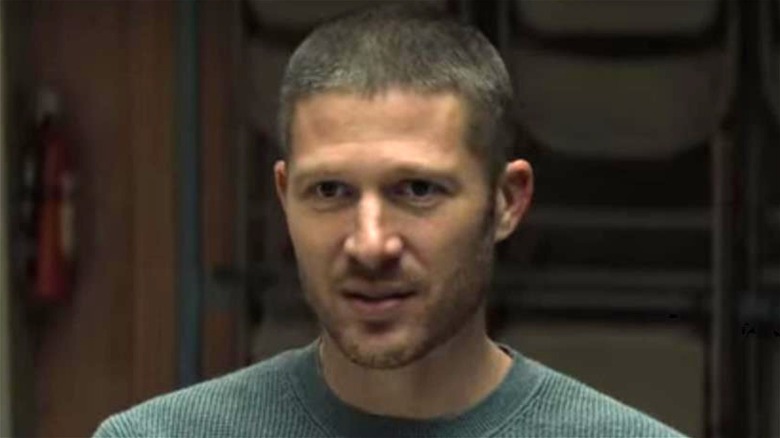 Netflix
"Midnight Mass" is the latest Netflix horror TV series from showrunner Mike Flanagan, whose past works for the streaming service include "The Haunting of Hill House" and "The Haunting of Bly Manor." 
In "Midnight Mass," the arrival of young priest Father Paul Hill (Hamish Linklater) to the fictional Crockett Island begins to shake up its Catholic community. The not-so-religious Riley Flynn is, more or less, the central character in "Midnight Mass," around whom certain significant elements of its plot revolve. Prior to the start of the series, Riley was imprisoned for hitting and killing a woman while driving drunk. Upon the series' opening, Riley returns home to Crockett Island after serving four years for his crime. Of course, being a horror series, Riley's return home coincides with the introduction of Father Hill to the community, leading to a string of strange phenomena.
Riley is portrayed by Zach Gilford, whose filmography dates back to the early 2000s. If Riley looks familiar, it's likely due to one of the following roles from throughout Gilford's career.
Zach Gilford portrayed Matt Saracen on Friday Night Lights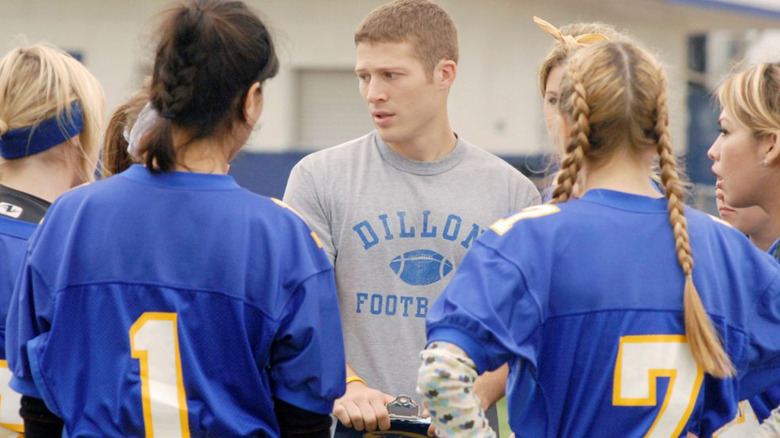 NBC
Zach Gilford's breakout role, among the first of his acting career, was as Dillon High School quarterback Matt Saracen in "Friday Night Lights." Upon the series' opening, Matt is the Dillon High School Panthers football team's backup quarterback, befitting his shyness relative to the majority of his teammates. However, when starting quarterback Jason Street (Scott Porter) suffers a debilitating injury, Matt must take over as the team's lynchpin.
Since Matt is introverted and even small in stature, each of his failures as a quarterback is compounded by many of his classmates' lack of faith in his abilities as a result of his physique and temperament. However, as the season progresses, Matt grows into his role and begins to transform into something of a successful team leader. Matt also dates Julie Taylor (Aimee Teegarden), daughter of team coach Eric Taylor (Kyle Chandler), adding a layer of interpersonal drama onto his already fraught tenure as quarterback.
Gilford appeared opposite Ron Perlman in The Last Winter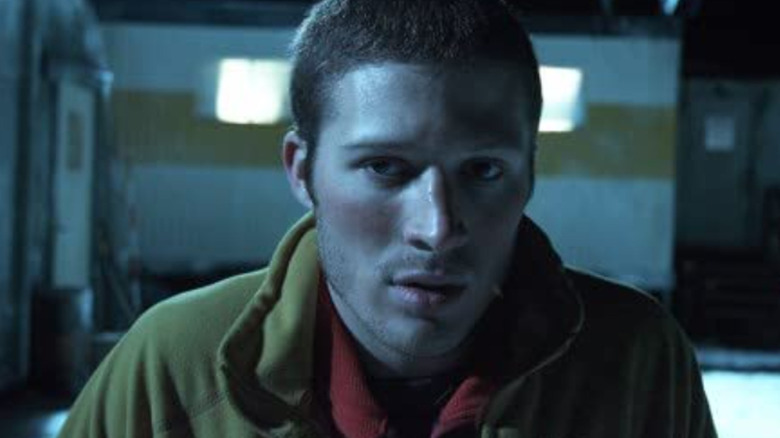 IFC Films
"The Last Winter" takes place in a remote stretch of Alaska, where an oil company called KIK Corporation is constructing a road to expand its drilling operations. Ed Pollack (Ron Perlman) is the head of the drilling team working on building further into the Alaskan wilds. Meanwhile, James Hoffman (James LeGros) is an environmental advocate whom the government has appointed to ensure KIK Corporation is taking appropriate precautions to avoid damage to Alaska's natural wildlife.
Zach Gilford portrays Maxwell McKinder, a young employee of KIK Corporation. He begins experiencing visions of ghostly caribou, among other strange sensory phenomena, after colliding with environmental scientist Elliot Jenkins (Jamie Harrold) during a football game. Maxwell's visions end up pointing toward a larger horror that exists on the oil company's periphery. Though Maxwell ends up sidelined by Pollack and Hoffman, his experience early on in the film is the first indication of the horrors that come to define the balance of its story.
Zach Gilford fought for his life in The Purge: Anarchy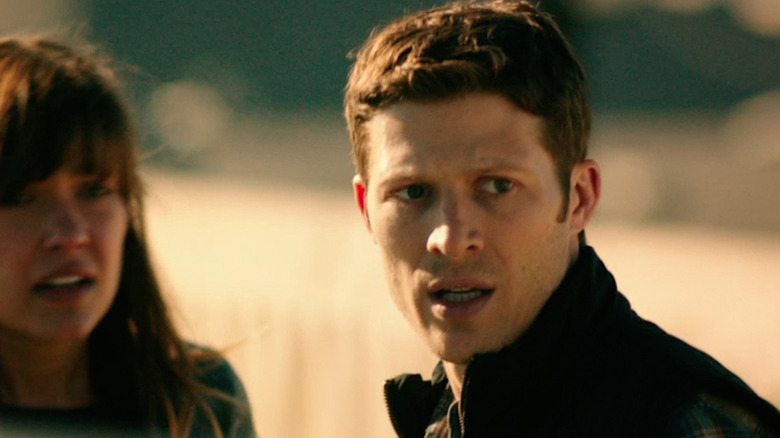 Universal Pictures
"The Purge: Anarchy" is the second film in the "Purge" series, taking place after the events of the simply-titled "The Purge." Whereas in the first film, the effects of the Purge — a night in which crime temporarily becomes legal — are mostly focused on the members of a single family and those around them, "The Purge: Anarchy" explores how the Purge might impact a wider range of individuals.
Among the film's various new subjects are Liz and Shane, a married couple portrayed by Kiele Sanchez and Zach Gilford. When they are first introduced, the couple encounters a group of masked ne'er-do-wells at their local grocery store, whom they soon find out have cut the fuel line to their car. This leaves them stranded away from their home when the Purge commences. Their simple grocery trip, as a result, ends up becoming a fight for survival, come nightfall.
Gilford was a Ben in L.A.'s Finest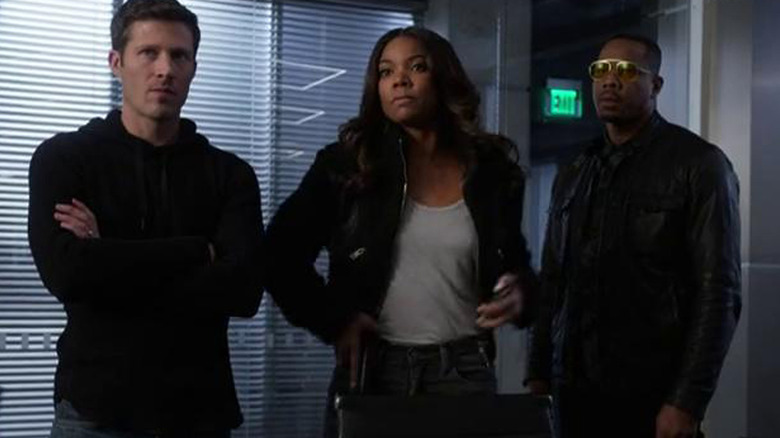 Spectrum/Fox
From 2019 to 2020, Gabrielle Union starred in "L.A.'s Finest" as Special Agent Syd Burnett, a character first introduced in "Bad Boys 2," which premiered in 2003. The pilot episode of "L.A.'s Finest" aired in 2019 (via IMDB) meaning that Union's lead role was reprising a character that debuted 16 years prior.
However, while Union's involvement places "L.A.'s Finest" canonically within the "Bad Boys" film franchise, many of those around her were entirely new to the "Bad Boys" universe. Some of the characters introduced upon the premiere of "L.A.'s Finest" included homicide detective Ben Walker, portrayed by Zach Gilford. Duane Martin, likewise, portrayed a homicide detective named Ben Baines, with whom Walker works as a duo. Many of their fellow cops and detectives call the pair "the Bens."
While "L.A.'s Finest" is one of Gilford's most recent TV roles prior to "Midnight Mass," his career as a television actor also includes appearances in shows like "Good Girls," "Law & Order: Special Victims Unit," "Drunk History," and more.