The Book Of Boba Fett Chapter 6 Moment That Pulled At Fans' Heartstrings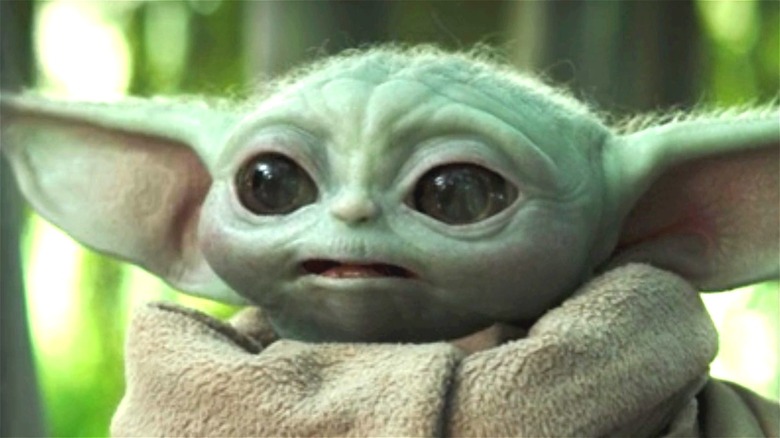 Lucasfilm/Disney+
With the success of "The Mandalorian," it was only a matter of time before Disney came up with another post-rebellion television series. "The Book of Boba Fett" follows the titular ex-bounty hunter as he attempts to gain control of Tatooine's industry of crime. Most of the show thus far has depicted Boba Fett (Temuera Morrison) escaping the Sarlacc pit and finding respite with a tribe of Tusken raiders. After his recuperation, however, it is back to business as he and Fennec Shand (Ming-Na Wen) start recruiting muscle to their cause.
"The Book of Boba Fett" has had many callbacks to other "Star Wars" properties, including easter eggs from "The Phantom Menace." Fans and critics were particularly delighted to see the return of Din Djarin (Pedro Pascal) in Chapter 5 of "The Book of Boba Fett" (via Den of Geek). The chapter follows the Mandalorian as he tries to find his way after giving up his charge, Grogu. The Child is never out of his thoughts, though, and we even see Djarin commissioning chainmail for his little friend. Aww. 
Chapter 6 of "The Book of Boba Fett" brings in more characters last seen in "The Mandalorian" and one scene with some familiar faces really pulled at fan's heartstrings. Albeit, in a different way.
Ahsoka and Luke finally meet on screen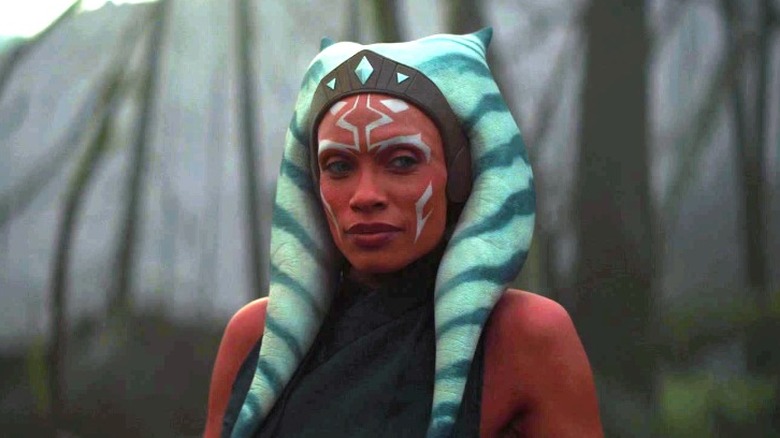 Disney+/LucasFilms
"The Book of Boba Fett" has struck gold with the inclusion of fan-favorite characters, and they continued that trend in Chapter 6, which includes appearances from Ahsoka Tano (Rosario Dawson) and Luke Skywalker (Mark Hamill). Since viewers last saw them in "The Mandalorian" finale, Luke has been busy training Grogu in the ways of the force and building up his Jedi school just in time for Ahsoka to pay them a visit. The training of Grogu is heartwarming, but what touched fans was the interaction between Ahsoka and Luke, both of whom have a deep connection to Anakin Skywalker. 
Luke is concerned about whether or not he is doing right by Gorgu, and Ahsoka states that he is like his father in that way. Fans on Reddit were touched by this moment. "'You're so much like your father' really tugging at my heartstrings here," posted u/Ark_aide. The two people most connected to Anakin sharing this moment is significant for fans. Ahsoka's warm regards towards who Anakin used to be is the selling point for many. 
"I love how the tone of Ashokas voice has changed when referencing herself knowing anakin from Rebels to now. From regret/guilt/fear to now more warmly," agreed u/tinylockhart3. Meanwhile, u/CheapCulture said simply, "Yeah... That one got me."
Ahsoka has had a long history with Anakin, which adds another layer to this moment for fans of "Star Wars."
Ahsoka has a meaningful history with Anakin
Disney/Lucasfilm
Anakin's redemption is important to both Luke and Ahsoka in different ways. Luke can finally see the good in who his father used to be and now has a friend who can tell him about his father's life. As Anakin's padawan, Ahsoka saw all the good he was capable of before he turned to the dark side. This interaction is important for Ahsoka as well. Ahsoka's journey spans all the way back to the animated series "Star Wars: The Clone Wars." The show covers the time between "Attack of the Clones" and "Revenge of the Sith" as Anakin trains her. As important as it is for Luke to hear that his father was once a good man, this is also a healing moment for Ahsoka. After the events of "Revenge of the Sith," Ahsoka confronts Darth Vader in "Star Wars: Rebels."
When Ahsoka confronts Darth Vader, she presumes Anakin to be dead and vows to avenge him. Ahsoka battles Vader but in the process, she comes to understand the truth: Anakin was not killed as she once thought. This is a fight to the death and Darth Vader would have killed her if someone had not interceded (via Den of Geek). Thanks to her interactions with Luke, Ahsoka can now accept that Anakin's legacy will be carried on by his son and the school that Luke is building.