Here's The First Look At Emily Blunt As Mary Poppins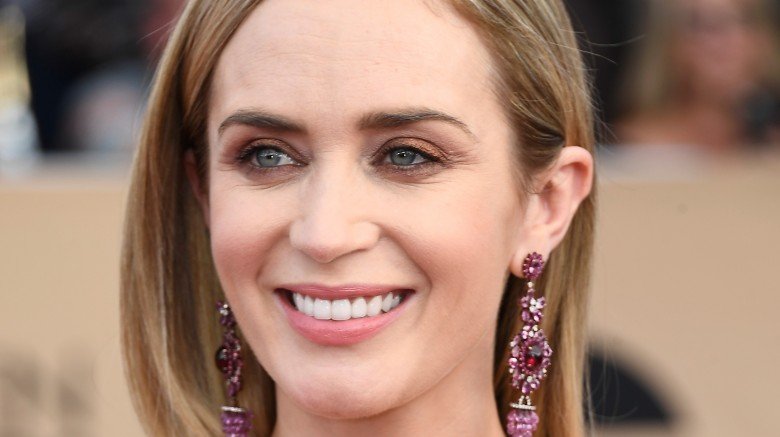 Getty Images
As the new Mary Poppins, Emily Blunt doesn't need a spoonful of sugar. She's already sweet enough. 
Disney has unveiled the first look at the upcoming Mary Poppins Returns, starring Blunt in the iconic titular role. 
The 21 second-long clip, posted on the Walt Disney Studios Twitter account, shows Blunt looking dazzling as the beloved British nanny, her trusty umbrella in tow. As Blunt's Mary lifts the handle to rest the umbrella on her shoulder, the sky behind her goes from dark and gloomy to bright and sunny—a hint at the magic yet to come. You can view the full motion poster at the bottom of this article.
Much to the relief of die-hard Disney fans, Mary Poppins Returns isn't a copy-and-paste remake of the 1964 original. Instead, the forthcoming pic takes place 25 years after the original tale, and will reportedly handle more mature themes amongst all the "supercalifragilisticexpialidocious" fun for which the first film is known. 
Here's the synopsis for Mary Poppins Returns: "In Depression-era London, a now-grown Jane and Michael Banks, along with Michael's three children, are visited by the enigmatic Mary Poppins following a personal loss. Through her unique magical skills, and with the aid of her friend Jack, she helps the family rediscover the joy and wonder missing in their lives."
Original Mary Poppins actress Julie Andrews previously gave Blunt her coveted stamp of approval. "Emily Blunt is going to play Mary Poppins and I am a great fan," Andrews said in an interview to promote her Netflix series Julie's Greenroom. "I think she is terrific. A perfect pick."
Joining Blunt for the film are Meryl Streep, Julie Walters, Angela Lansbury, and Lin-Manuel Miranda in leading roles. 
Mary Poppins Returns is set to fly into theaters on December 25, 2018, and is just one of the many movies we can't wait to see next year.
Emily Blunt is Mary Poppins in the upcoming sequel, #MaryPoppinsReturns. The brand new film opens in theatres December 2018. #D23Expo pic.twitter.com/egxozrpRbr

— Walt Disney Studios (@DisneyStudios) July 15, 2017