Here's What Julie Andrews Thinks Of Emily Blunt Playing Mary Poppins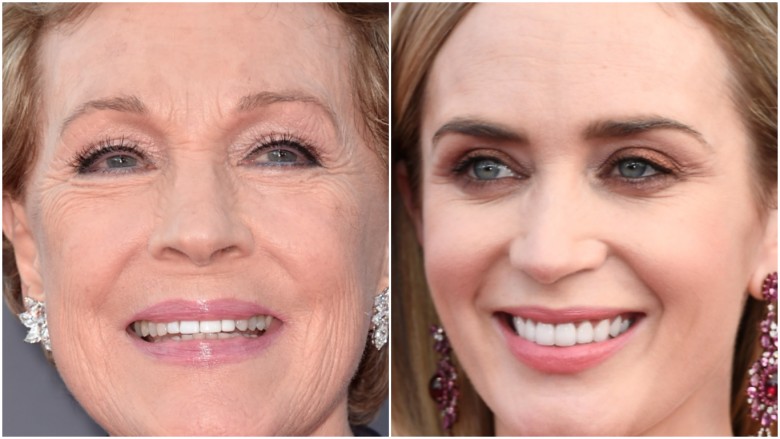 Getty Images
The original nanny with a plan (and a bag full of tricks) Julie Andrews finally weighs in on the new gal coming to town.
In a recent appearance on Entertainment Tonight, Andrews commented on English actress Emily Blunt stepping into the Mary Poppins shoes for the upcoming remake. And it's all sounding very promising. "Emily Blunt is going to play Mary Poppins and I am a great fan," the acting icon said during the interview, while promoting her Netflix television series Julie's Greenroom.
Not only is Andrews a fan of Blunt's work, it appears she thinks the 34-year-old actress was the best of the bunch when it came to choosing who would become the next Mary in Mary Poppins Returns. Blunt was reportedly up against American actress Anne Hathaway for the leading role.
"I think she is terrific," Andrews said. "A perfect pick."
Andrews also weighed in on whether she'd be making an appearance in the sequel, given the fact that her former co-star Dick Van Dyke will be popping up as an old banker's son. "I don't think I'm involved in it," she said. Considering it wasn't a straightforward "yes" or "no" answer, some have speculated that seeing Andrews in the upcoming flick is still a possibility.
Check out the full synopsis for Mary Poppins Returns: "In Depression-era London, a now-grown Jane and Michael Banks, along with Michael's three children, are visited by the enigmatic Mary Poppins following a personal loss. Through her unique magical skills, and with the aid of her friend Jack, she helps the family rediscover the joy and wonder missing in their lives."
Blunt will star alongside Julie Walters, Lin-Manuel Miranda, and Meryl Streep in leading roles. Mary Poppins Returns is set to hit theaters on December 25, 2018, and with the approval of the original Mary herself, something tells us it'll be a film you won't want to miss next year.