The Chicago P.D. Season 2 Scene That Might Have Gone Too Far
In 2012, "Chicago Fire" made its debut on NBC. The series not only served as another hit for creator Dick Wolf, but it also began the "One Chicago" franchise of shows, which includes "Chicago P.D." The latter show, which first arrived in 2014, centers on a police unit within the famous Windy City. 
Much like its television cousins in the "Law & Order" series, "Chicago P.D." provides a steady flow of intense police action and drama. That being said, many of the cases that the team on "Chicago P.D." handles can be significantly disturbing ... and the series isn't shy about providing some of the saddest deaths in the "One Chicago" Universe. That being said, in Season 2, "Chicago P.D." decided to combine a disturbing case along with a tragic death, all while managing to do some crossover episodes with "Chicago Fire" and "Law & Order: Special Victims Unit." 
The three crossover episodes involved the hunt of a sadistic serial killer. The special team-up between the three series made for an intriguing TV event. Yet, the crossover episode from "Chicago P.D." also gave the series a scene that might have gone too far, thanks to the demise of a beloved character.
The abduction scene of Nadia Decotis is hard to watch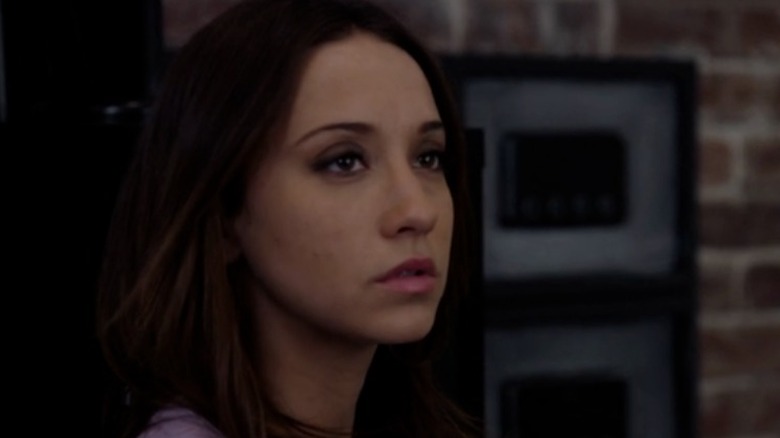 NBC
Nadia Decostis (Stella Maeve) started as a recurring character in "Chicago P.D." that soon became a fan-favorite thanks to her character arc in the series. She's introduced in the show as a troubled teenage sex worker and drug addict, but works hard to transform her life. By Season 2, Nadia has completely transformed her situation, and even worked her way up as an administrative assistant for the Intelligence Unit, with aspirations to become a cop. Basically, Nadia is a complex and multifaceted character who is consistently growing. That's why her abduction scene in the Season 2 Episode "The Number of Rats" by serial killer Gregory Yates (Dallas Roberts) is hard to watch. Nadia's kidnapping is the cliffhanger prelude to her tragic and grizzly fate on the "SVU" Episode "Daydream Believer," where we learn that the serial killer has sexually assaulted and murdered her. 
The fate of the character being so unnecessarily gratuitous is already difficult to stomach, but what's also makes the scene so hard to watch is that it was done strictly to create a plot link between "Chicago P.D." and "Law & Order: SVU." It's as if the killer's other victims, who also suffer horrible fates, weren't enough to justify the crossover. "Chicago P.D." showrunner Matt Olmstead told The Hollywood Reporter that Nadia's demise was never really initially planned, but a personal stake was needed to bring the two police units together for a case. 
"Chicago P.D." isn't light fare, but what happened to Nadia was cheap shock value, and unnecessary for the franchise.
If you or anyone you know has been a victim of sexual assault, help is available. Visit the Rape, Abuse & Incest National Network website or contact RAINN's National Helpline at 1-800-656-HOPE (4673).