Is There A New Shark Tank Episode On Tonight? (February 4, 2022)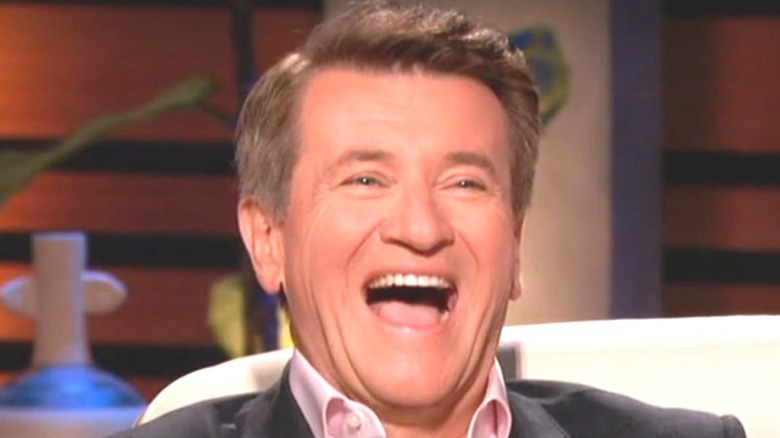 ABC/Hulu
We may receive a commission on purchases made from links.
ABC's "Shark Tank" offers something beyond the ordinary when it comes to reality competition shows. During each episode, the titular panel of sharks is presented with a series of inventions by mom-and-pop inventors looking for capital and an opportunity. The team of five investors — usually, but not always headed by real estate broker Barbara Ann Corcoran, FUBU founder Daymond Garfield John, Canadian businessman Kevin O'Leary, and/or Dallas Mavericks owner Mark Cuban — then pick apart or praise the pitches presented to them. Interested investors will commit to a handshake agreement with the entrepreneurs. But it's quite possible that all of the investors will reject the invention, which means the entrepreneurs will leave with nothing to show for their appearance other than a little bit of free publicity on a major network.
The last new episode of "Shark Tank" to air premiered on January 28, 2022, and it was the 13th episode of Season 13 (per IMDb). The show airs every Friday night at 9 p.m. EST. With that in mind, fans may be wondering if there will be a new episode of "Shark Tank" on ABC on Friday, February 4.
There will not be a new Shark Tank on this Friday
Per the schedule posted to ABC's official website, this Friday's episode of "Shark Tank" will be a repeat of Season 13, Episode 3. While this week's showing is definitely set to be an old one, there will likely be more new episodes left to air before "Shark Tank" joins the rest of ABC's fall shows on summer hiatus. Since all 12 previous seasons of Shark Tank (per IMDb) have contained 24 to 25 episodes per season, it's quite likely that the show will be back with new segments at some point in the future, perhaps after the 2022 Winter Olympics conclude on February 20.
Fans yearning to relive some shrewd deals and sharky goodness still have several ways to relive the fun that Season 13 has brought them thus far. ABC has an archive of five Season 13 episodes, which can be streamed for free with ad support. Hulu offers complete seasons of the show for its standard subscription fee, as does Fubo. Furthermore, individual episodes may currently be purchased at YouTube, Google Play, Apple TV, Vudu, and Amazon Prime for $1.99 apiece.