Mayor Of Kingstown Fans Just Got The News They've Been Waiting For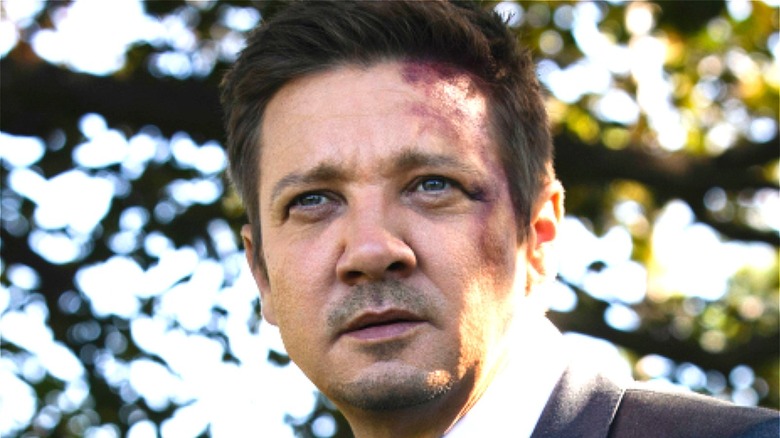 Emerson Miller/ViacomCBS
If there's one thing audiences ought to take away from "Mayor of Kingstown" it's that Taylor Sheridan certainly knows how to write shows about powerful, violent families who will do whatever it takes to keep themselves alive. "Mayor of Kingstown" is Sheridan's follow-up to the wildly successful "Yellowstone," and follows the members of the fictional McLusky family who serve as power brokers for Kingstown, Michigan: a town whose entire society revolves around its prisons.
Kingstown is home to multiple prisons, and the McLuskys act as liaisons between the prisoners, guards, and townsfolk — attempting to keep the whole community running smoothly. The brutal, unforgiving life of the prison system seems to seep right out into the streets of Kingstown, making the entire town a massive, ticking time bomb. The series follows Mike McLusky (Jeremy Renner) as he attempts to maintain peace and order in Kingstown — no matter the cost. It's a thrilling crime drama that tackles important issues like systemic racism and prison corruption, and fans of the series will be happy to hear that they finally have the news they've been waiting for. 
Mayor of Kingstown was just renewed for another season
According to The Hollywood Reporter, executives from Paramount+ announced earlier today that they would be renewing three of the streaming services' key original programs, one of which is "Mayor of Kingstown." Nicole Clemens (head of scripted originals at Paramount+) followed up the announcement by explaining that the three shows were "priority" projects for the streaming service — and considering the fact that "Mayor of Kingstown" is the only show of the three to not be a reboot or a transfer from another network, it's clear the company is staking a lot on the show's success.
As of right now, there is no confirmation when the next season of "Mayor of Kingstown" will air, but considering how much the executives emphasized how important the show is to their streaming service, we can all but guarantee the next season will be available exclusively on Paramount+.