Who Plays Nurse Beth On Chicago Med?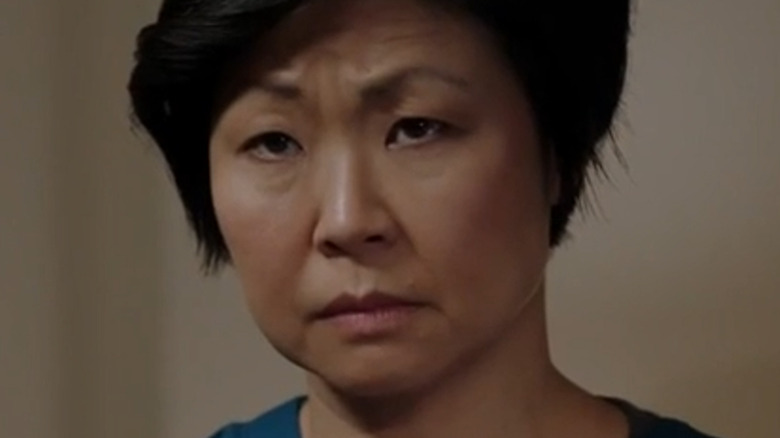 NBC
In the same manner that shows like "NCIS," "Law & Order," and "Criminal Minds" all ballooned into multi-series franchises, NBC's "Chicago Fire" ultimately spun off a few additional projects with which it now shares an interconnected universe. Among its fellow One Chicago shows, as the franchise is known, is "Chicago Med," which chronicles dramas both professional and interpersonal at a Chicago area hospital.
Given that it's an ensemble drama that takes place in a continuity actively shared by a couple of other series, "Chicago Med" has featured a large cast over the course of its considerable run. Leading the charge are characters like Dr. Dylan Scott (Guy Lockhard), who quickly became a fan favorite after his introduction in Season 7. In addition to its marquee stars, "Chicago Med" features reoccurring characters from time to time that help build out its reality without ever landing at the center of one of its dramatic storylines. Such is the case with Nurse Beth Cole, who works in Gaffney Chicago Medical Center's operating room.
For those intrigued by Nurse Beth's sporadic but reliable presence throughout "Chicago Med" and a couple of other One Chicago shows, here's the actor who has portrayed her for the entirety of her multi-year run.
Nurse Beth is portrayed by Mia Park
Nurse Beth — who technically first appeared in "Chicago Fire" Season 1 — is portrayed by actor Mia Park (via IMDb). Since joining the One Chicago universe in 2013, Park has played Nurse Beth in four episodes of "Chicago Fire," one episode of "Chicago PD," and 28 episodes of "Chicago Med." She has yet to factor into an episode of "Chicago Med" since Season 5 Episode 1 in 2019. Outside of her work in the One Chicago franchise, Park has appeared in single episodes of "Shameless" and "Empire."
Additionally, starting prior to her network TV acting career and lasting for many years after, Park hosted a children's dance show on Chicago public access TV called "Chic-A-Go-Go." According to Park's personal website, she first joined the show as a dancer in 1996 before transitioning to hosting in 1998. Overall, she appeared in a whopping total of one thousand episodes of "Chic-A-Go-Go" between the years of 1996 and 2016.
So, while Nurse Beth may have once played an occasional supporting role on "Chicago Med," Park is a Chicago legend in her own right, as the longtime host of a decades-long staple of local Chicago TV.