The NCIS Episode You Likely Forgot Starred Lily Tomlin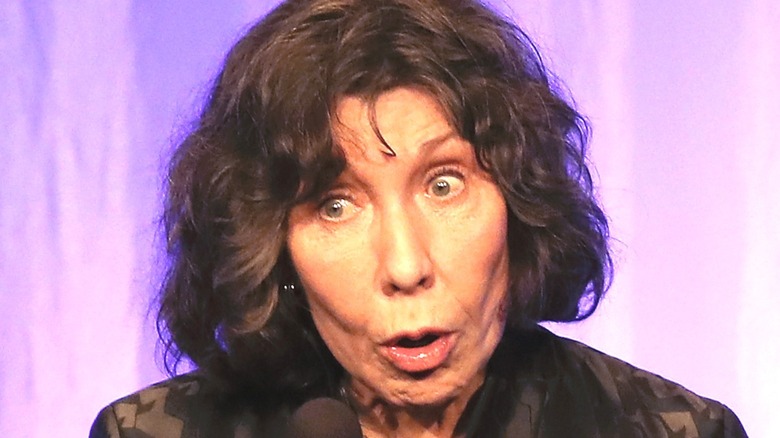 David Livingston/Getty
"NCIS" is no stranger to having massive guest stars grace its episodes. It makes sense seeing how the Naval Criminal Investigative Service frequently goes out into the field, interacting with all kinds of people while trying to solve crimes. For example, one Season 3 episode, "Deception," saw the inclusion of not one but two future leading men in the form of Zac Efron and Jesse Plemons. They both play teenagers who get wrapped up in an investigation surrounding a missing woman.
While "NCIS" can certainly help launch careers, it can also give veterans in the industry an opportunity to reintroduce themselves to a new audience. You can see this all too well with the casting of Jamie Lee Curtis, Billy Dee Williams, and Lily Tomlin, to name a few, who have rocked their respective episodes of "NCIS." If you happen not to remember when Tomlin made her "NCIS" debut, don't worry. We're here to jog your memory.
Lily Tomlin played McGee's grandmother on NCIS
Lily Tomlin is a legend in Hollywood, getting her start in stand-up comedy before moving on to television and film. She's perhaps best known for her roles in the likes of "9 to 5," "Big Business," and "I Heart Huckabees," so it should come as no surprise that the Screen Actors Guild awarded her a lifetime achievement award in 2017. Suffice to say, it was a major deal when she landed on NCIS in 2011 for the Season 9 episode, "The Penelope Papers."
Tomlin played Penelope Langston, the grandmother of Timothy McGee (Sean Murray), who finds herself wrapped up in a case involving a recently deceased Naval Reserve lieutenant who died of a gunshot wound. Tomlin is excellent in the role of an old hippie, which is the type of role the actress has become known for, particularly on her latest stint on "Grace and Frankie."
She may have only appeared on a single episode of "NCIS," but she left her mark, as tends to be the case any time Tomlin makes a cameo in a TV show, whether it's "The X-Files" or "Eastbound and Down." Tomlin is one performer audiences just can't seem to get enough of.