The Surprising Inspiration Behind Edge Of Tomorrow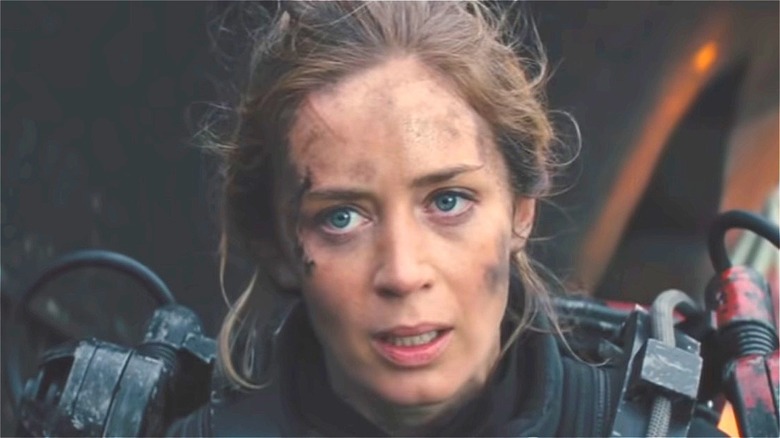 Warner Bros./YouTube
As Tom Cruise makes further tweaks to his cinematic schedule following the date change of both "Mission: Impossible 7" and "Mission: Impossible 8," there's still one franchise we hope he returns to once the fuses burn out, and those other two missions accomplished. The part "Groundhog Day" part alien invasion movie "Edge of Tomorrow" turned out to be an all-out critical success (via Rotten Tomatoes). The film, which eventually changed its name to "Live Die Repeat," saw Cruise as a public affairs officer, covering an ongoing war between humanity and an alien race attacking the planet. Circumstances drop him into the middle of a significant battle that sees him contaminated by one of the alien creatures, giving him the ability to relive the day over and over again.
The film was praised for its comedic chops and the role reversal of bringing Emily Blunt to the forefront as its battle-seasoned hero and getting Cruise in action as a character entirely out of his depth. In an engaging and cleverly constructed world, it was a rare detour from the usual role that audiences had become accustomed to with the star and DIY stuntman. But where did this insane story of an alien invasion on rewind come from, and is there any plan for its future?
Well, as it turns out, "Edge of Tomorrow" came from that go-to Hollywood treasure trove — the bookshelf. Remember those, kids?
Edge of Tomorrow started as All You Need Is Kill
Crammed with mech-suit-wearing soldiers squaring off in alien showdowns and oversized blades, the fantastic story of "Edge of Tomorrow" was inspired by the light novel (manga-type story targeting young readers) penned by Japanese author Hiroshi Sakurazaka. Written in 2004 (via Anime News Network), the story follows Keiji Kiriya, a recruit to the UDF (United Defense Force) who suffers the same fate as Cruise's character in the film. He also meets a war-hardened hero named Rita Vrataski (the basis of Blunt's character), who has endured a similar alien encounter.
However, Sakurazaka's story ends with Vrataski dying permanently in the story, and the day does not reset to see her survive the ordeal. Nevertheless, the adaptation did capture a lot of the wild story elements perfectly, which explains why a sequel has been in the pipeline since 2015 (via Collider). Fingers crossed, then, that while the book has long since been closed on "All You Need Is Kill," there might still be one more day left for "Edge of Tomorrow."