Should 1883 Fans Be Worried About Thomas And Noemi?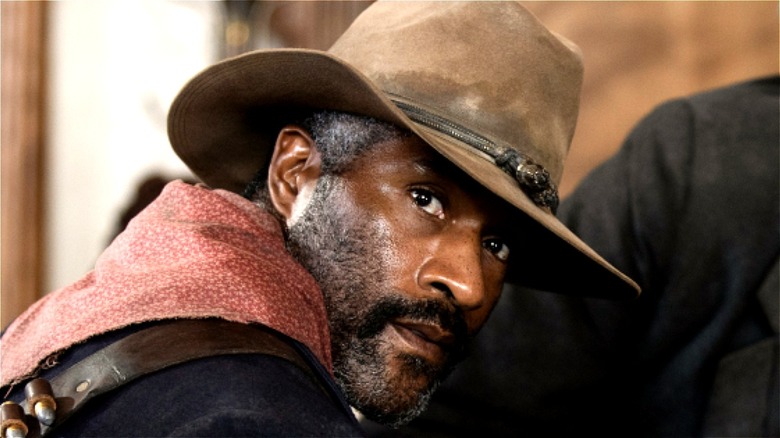 Emerson Miller/Paramount+
The following article contains spoilers for "1883" Episode 6.
If you thought things were treacherous with the modern-day setting on "Yellowstone," you hadn't seen anything until "1883" debuted on Paramount+. The prequel series to the hit Paramount show takes viewers to the 19th century with the ancestors of the Dutton family. The show depicts James Dutton (Tim McGraw), his family, and a group of travelers venturing into unknown American territory to make better lives for themselves. Of course, it's not a walk in the park as there are all kinds of enemies and dangerous animals awaiting them in the wilderness.
Audiences had already seen this first-hand when a group of bandits killed Ennis (Eric Nelsen), sending Elsa (Isabel May) on the revenge path. That's one romance that ended quickly, and it may not be the last, as LaMonica Garrett, who plays Thomas, hinted at during a recent interview with TV Guide. Thomas struck up a courtship with Noemi (Gratiela Brancusi), and as much as some viewers just want to see these characters have happy endings, Garrett confirms that isn't always necessarily in the cards.
LaMonica Garrett discusses how Thomas chooses 'to stay positive' amongst the horrors
Thomas has one of the more intriguing arcs so far on "1883." He starts as a hardened veteran sergeant who knows all too well about the dangers of crossing the heart of America. However, after he met Noemi, something interesting started to happen. He began to open himself up a little bit, even going so far as to buy her a present. It's sweet to see him start to trust others once again, even if he knows the relationship may not last very long (few things do in that environment). 
LaMonica Garrett actually spoke about this character development, almost hinting that things are about to turn south for Thomas and Noemi quickly. He stated, "It's tough, the trail. As soon as someone's happy, it's like nope, they're too happy. The land's gonna get rid of 'em. No one should be happy in this world. But it's going to be interesting to see how it materializes." Things were pretty good between the new couple in Episode 6, but there's plenty of story left. Season 1 is slated to have 10 episodes, so there's plenty of time for things to turn south for the pair, and the interview with Garrett seems to hint that's precisely where the relationship will head. 
Garrett makes it clear that Thomas likely knows things won't end well with Noemi, but he chooses to believe in hope regardless. Garrett goes on to state, "[Thomas] knows the harsh environment, but he's the humanity. He chooses to open himself up to this, even though he knows it could just all go south within hours. But that's a choice he's made, and I think he's made a lot of choices to stay positive and to be the hope of the show. So this is just another way of showing that." While fans may want to be cautious when approaching Thomas and Noemi's relationship, it sounds like they should take some cues from Thomas and simply enjoy the ride while it lasts.