New Avengers: Infinity War Villains Revealed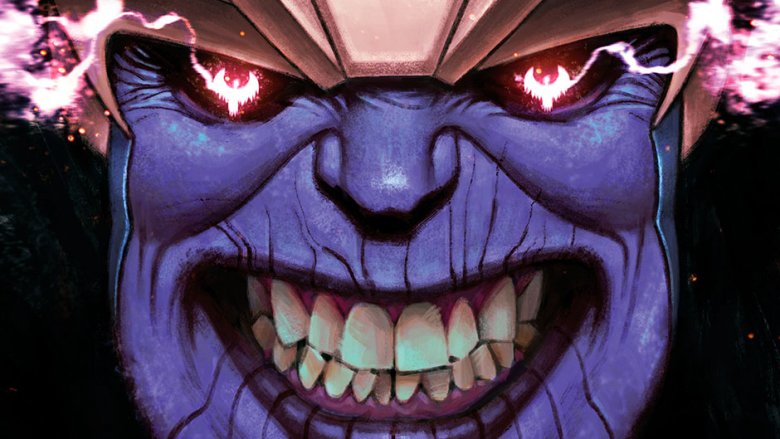 Marvel Comics
Marvel fans, you might want to sit down while we tell you this epic news. 
Following the release of an intense, standing ovation-worthy trailer for Avengers: Infinity War during this weekend's D23 Expo came another big announcement. Marvel Studios has revealed four new villains for the upcoming superhero flick, confirming that when Thanos (Josh Brolin) goes head-to-head with Earth's Mightiest Heroes in Infinity War, he'll be accompanied by the Black Order. 
In Marvel Comics lore, the Black Order (sometimes called the Cull Obsidian) are Thanos' villainous lieutenants. The original line-up consisted of the merciless Corvus Glaive, the immensely powerful Proxima Midnight, and the dangerous thinker Ebony Maw, along with Supergiant, Black Swan, and Black Dwarf. Based on Marvel's D23 announcement, the Black Order members who will appear in Infinity War are Glaive, Proxima, Ebony Maw, and character named Cull Obsidian, who seems to be a stand-in for Black Dwarf. 
At D23, Marvel literally unveiled statuettes of the Black Order by pulling huge shrouds off the figures during the official reveal. The company later posted a photo of the new antagonists on the Marvel Studios Twitter account. "Major reveal alert! The children of Thanos, with Thanos himself, Josh Brolin!" the post reads. The picture shows Brolin wielding the Infinity Gauntlet, with Claive, Proxima, Ebony Maw, and Cull behind him. 
Marvel executive Louis D'Esposito also posted a snap of the Black Order, which more clearly shows the Thanos statuette standing between his "children." 
Created by writer Jonathan Hickman and artists Jim Cheung and Jerome Opena for the Infinity comic storyline, the Black Order's sole purpose is to retrieve the Infinity Gems (known as the Infinity Stones in the MCU), no matter the cost. This will definitely cause trouble for the Avengers and many more during Infinity War. 
Avengers: Infinity War is due out in theaters on May 4, 2018. In the meantime, check out the actors who were almost cast as an Avenger.
Major reveal alert! The children of Thanos, with Thanos himself, Josh Brolin! 😵 #InfinityWar #D23Expo pic.twitter.com/39kxKUcAj9

— Marvel Studios (@MarvelStudios) July 15, 2017
Children of Thanos revealed. pic.twitter.com/RWT4HS8tnR

— Louis D'Esposito (@louisde2) July 15, 2017