The Surprising Memento Tim Allen Took From Home Improvement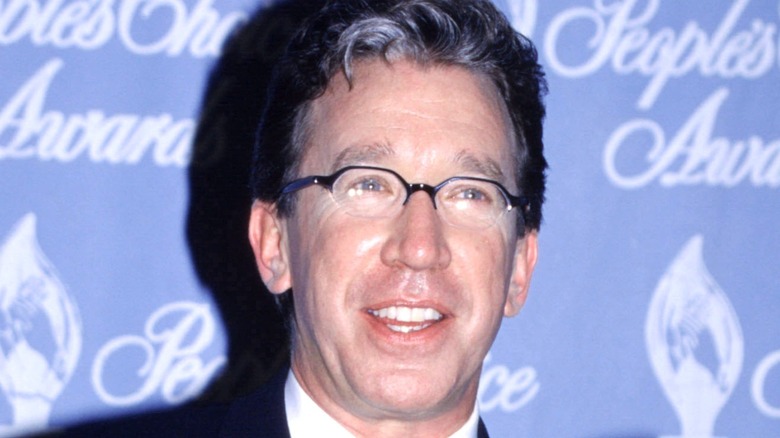 Russell Einhorn/Getty
If you owned a TV between 1991 and 1999, chances are you regularly encountered Tim Allen and the fictional Taylor family. Over the course of its eight-season run, "Home Improvement" became a staple of the American television landscape, racking up Golden Globe and Emmy nominations and topping Nielsen ratings (via UPI). The sitcom stars Allen as Tim "The Tool Man" Taylor, a former Binford Tools salesman and host of a show-within-a-show called "Tool Time." Richard Karn plays Al Borland, Tim's reticent co-host and frequent foil to Tim's brash antics. "Home Improvement" also explores the family dynamics of the Taylor family, which includes Tim's deadpan wife Jill (Patricia Richardson) and their three children, Brad (Zachery Ty Bryan), Randy (Jonathan Taylor Thomas), and Mark (Taran Noah Smith).
"Home Improvement" served as a launchpad for Allen's career. The now-iconic funnyman got his start in stand-up and made his scripted debut on the show. He worked his comedic chops as Tim Taylor, whose winning combination of cocksure ambition and a lackadaisical approach to following instructions spun comedy gold. Tim proves to be a knowledgeable handyman, but his know-it-all attitude leads to countless scrapes and mishaps. One area in which Tim actually shows competence, however, is working on cars, which is relevant to the memento Allen took from the set of "Home Improvement."
Tim Allen kept the '33 Ford Roadster from Home Improvement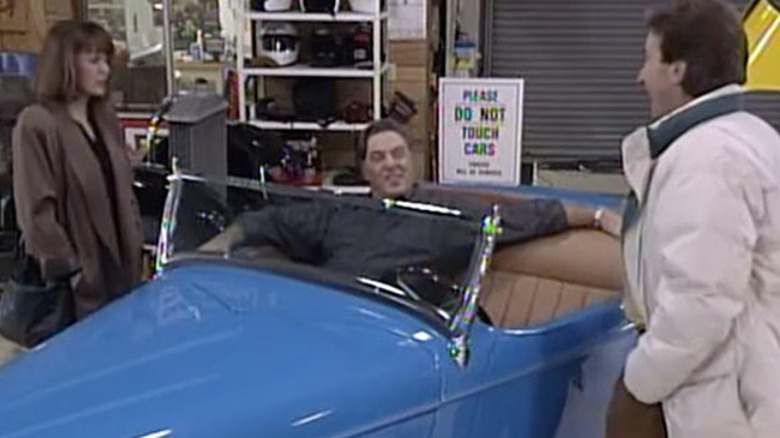 ABC
An avid car collector, Tim Allen includes the infamous 1933 Ford Roadster from "Home Improvement" as part of his vast collection (via Motorious). The Roadster was built on the set of the sitcom, making it a particularly meaningful — and functional — memento for the actor. Indeed, Tim's beloved hot rod makes numerous appearances over the course of the series, gracing such episodes as Season 2, Episode 24's "Birth of a Hot Rod" and the Season 4 Episode 11's "Some Like It Hot Rod," (via IMDb) in which Jill accidentally leaves the automobile outside in a snowstorm. The Roadster even takes center stage in the Season 3 finale, when Tim and his nemesis Bob Vila face off in an auto race.
Car enthusiasts may balk at some of the adjustments made to accommodate the on-set vehicle, such as — gasp! — a Chevy engine. But for "Home Improvement" die-hards, the Roadster isn't just an artifact for grease monkeys; it is a relic of TV history. With Allen pulling in about $1.25 million per "Home Improvement" episode towards the end of the show's run, it's probably not the most valuable car in his collection. It may, however, be the only one to have appeared on "Tool Time."