The Hilarious Encanto Post-Credits Scene You Didn't Get To See
Disney's "Encanto" has taken the world by storm. Now that the original flick is on Disney+, more people have access to the film than ever before, allowing a whole new audience to take in the story of a broken family who must learn to accept one another for who they are and not who they expect them to be. It's okay for Luisa (Jessica Darrow) to feel vulnerable sometimes, even though she has superhuman strength. It's all right if Isabela (Diane Guerrero) isn't always the perfect child because she's only human.
It's a genuinely emotional film that's undoubtedly sparked conversations across numerous families about how they treat one another, and it all reaches a stirring climax where everyone in the town comes together to help rebuild casita. It showcases the power families have when they lift the burden of unreasonable expectations off of each other. It's the kind of ending to make you stand up and want to call your parents, but it almost had a completely different final scene.
It wasn't a massive change by any means, but co-director and co-writer of the film, Jared Bush, recently took to Twitter to talk about a proposed after-credits scene that would've made you leave the theaters in laughter rather than in tears.
More capybara hijinks ensue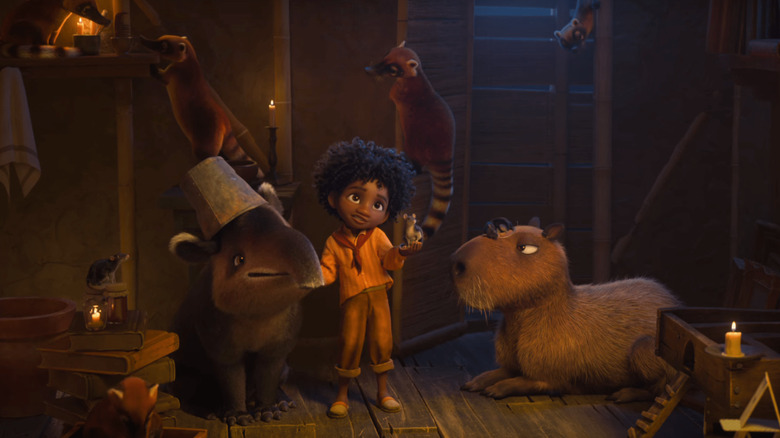 Disney
After-credit scenes have become somewhat of the norm as of late, particularly with another Disney franchise — the Marvel Cinematic Universe. As such, it only makes sense that many viewers will wait once the movie is over to see if there are any bonus scenes worth checking out just out of habit. "Encanto" didn't have one, but that didn't stop those behind the scenes from considering it.
Jared Bush tweeted, "We considered an after credit joke to end the movie, but ultimately felt going out on the emotion and joy of the family coming back together was the way to go... but the hilarious @darrinbutters animated it!! So here you go! THANK YOU EVERYONE FOR WATCHING WITH US!!" He then includes a short clip of the capybara featured throughout the movie sauntering about, ready to do his business on the side of casita. However, the house collapses its gutter at that point, pouring water onto the unsuspecting animal, which promptly runs away.
It's a short, sweet moment that's par the course for Disney animated projects, and fans seem to have loved the bit. People commented things like, "That's hilarious!! Love it!! I was waiting for a post-credit scene in theaters so this delivers" and "That would have worked! Shows that the house has a sense of humor and is back!" Ultimately, more capybara scenes are always a good thing, and at least we get to see the moment now. The real question is whether the capybara and the entire Madrigal family return in a sequel at some point, which is what fans would really want to see.