Here's What The Incredibles 2 Will Be About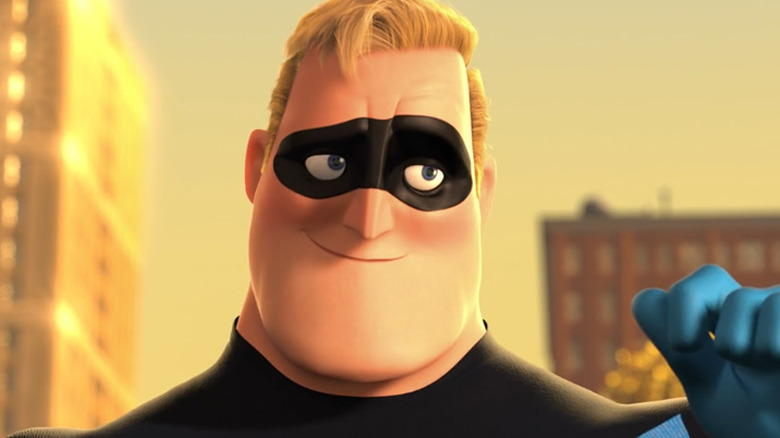 Disney-Pixar
Disney-Pixar held no bars at this year's D23 convention in Anaheim, rolling out never-before-seen footage of upcoming films like the Wreck-It Ralph sequel and a yet-to-be-titled Cars spinoff set in space. But what has countless fans buzzing is the reveal of new details of The Incredibles 2, the long-awaited follow-up to the 2004 movie that brought to life super-heroic couple Mr. Incredible (Craig T. Nelson) and Elastigirl (Holly Hunter) and their children Violet Parr (Sarah Vowell), Dashiell "Dash" Parr (Spencer Fox), and little Jack Jack. 
Nearly 15 years after the original flick was released in theaters, The Incredibles director Brad Bird took the D23 stage to unveil some information regarding The Incredibles 2. Bird stated (via The Hollywood Reporter) that the sequel will focus on Elastigirl rather than Mr. Incredible. She's "the star of this film" and will be "off adventuring" while her husband stays at home with their baby son. An additional change comes to the voice cast, as Huck Milner replaces Spencer Fox as the voice of Dash. Samuel L. Jackson will lend his pipes to the character of Frozone once more, and Bird will reprise his role as fictional fashion designer Edna Mode.
Bird also unveiled the first look at the sequel, which he will be directing and writing. The clip, though still a work in progress, featured Jack Jack wandering around outside after Mr. Incredible falls asleep. Once in the great outdoors, the tiny tot encounters a raccoon and shows off an all-new superpower: he can multiply.
Pixar chief creative officer John Lasseter also revealed that The Incredibles 2 will take place immediately after the events of the first film (via IGN).
"It starts right as the first one finishes, so it just carries on," Lasseter said, indicating that only "a minute" will have passed between the two. "It starts with the Underminer and a big old set piece. You know that at the end of the first movie when he comes up and you see the family dressed as superheroes, well that's where start this movie."
Lasseter continued, "One of the unique things about The Incredibles is it's really a story of a family set in the world of superheroes. This one carries on that theme. It's awesome, the idea we came up with. Simple as that... we love to really look at our own lives and look at what's going on, and find themes that we know will resonate with the audience."
The upcoming flick will reportedly be sleeker than ever, and it set for release on June 15, 2018. While we wait until then, check out the other movies we can't wait to see next year.