Tom Holland Wants Tobey Maguire To Play Uncle Ben In Future Spider-Man Movies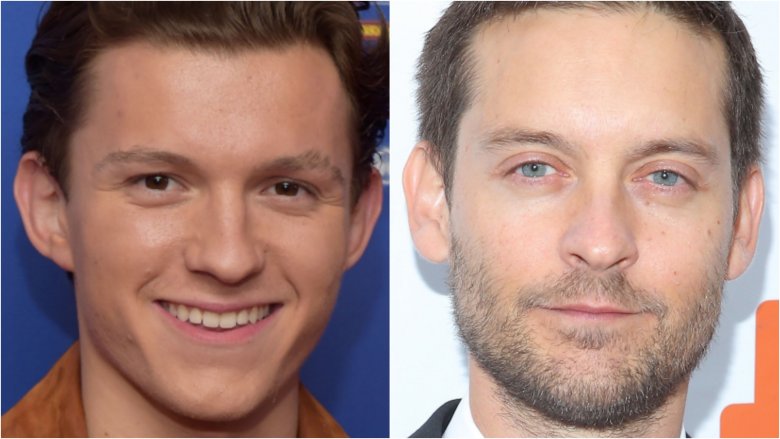 Getty Images
It's been a few years since Tobey Maguire has starred in the Spidey universe, but he's not that old.
Fresh-faced Spider-Man actor Tom Holland, who dons the web-slinging suit in Sony and Marvel's Spider-Man: Homecoming, recently sat down for a chat with BBC Radio 1. During the interview, Holland discussed the future of his version of the iconic superhero and revealed the character he hopes will appear in follow-up films: namely Peter Parker's dear old (and unfortunately doomed) Uncle Ben. 
Where past iterations, the ones led by original Spider-Man actor Tobey Maguire and Amazing Spider-Man star Andrew Garfield, started off with the death of Peter Parker's uncle, Homecoming steered clear of the devastation. But that doesn't necessarily mean Uncle Ben can't show up in the future, and Holland knows just the guy to play the Marvel Cinematic Universe version of him. 
"I kinda want Tobey Maguire to play Uncle Ben. I think that'd be super funny, but I don't think he'll do it," Holland said. "It would be really cool."
We totally agree that Maguire portraying Uncle Ben would be pretty hilarious, but, as Holland candidly admitted, it might be a long shot. Maguire would have to be fully on board, and there's no telling what his reaction would be if approached about the role. Additionally, it's assumed that Uncle Ben already died prior to when Holland's Spider-Man was introduced in Captain America: Civil War last year, and he's hardly mentioned in Spider-Man: Homecoming at all. However, Uncle Ben appearing in upcoming Spidey movies could be a possibility, since we haven't seen or met him in the MCU thus far. We'll simply have to wait and see.
As we speculate about the probability Maguire will star alongside Holland and the new Aunt May (Marisa Tomei), take a look at the characters in Spider-Man: Homecoming with more meaning than you realize.