Who Plays Lee Su-Hyeok In All Of Us Are Dead?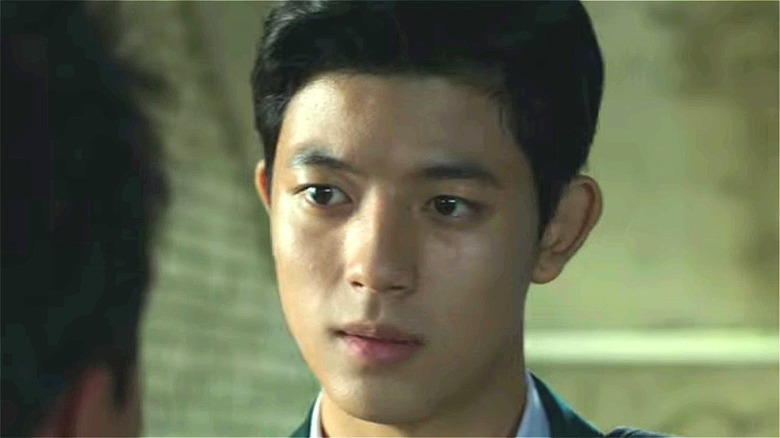 Netflix
The zombie genre has been a key part of film and television for decades, with the AMC television series "The Walking Dead" standing as the most prominent example of the genre's popularity, spinning off a number of series, including "Fear The Walking Dead" and "The Walking Dead: World Beyond."
The 2016 film "Train to Busan" established South Korea as a new source for zombie stories, as the film, which focused on a group of train passengers trying to survive a zombie apocalypse, garnered enough fans for a sequel in 2020, titled "Train to Busan Presents: Peninsula."
While filmmaker Yeon Sang-ho has spoken about plans for a third film in the franchise, the South Korean entertainment industry continues to create further zombie stories. The latest entry to the genre is the Netflix series "All of Us Are Dead," which focuses on a group of students at a high school who get trapped when there's a zombie outbreak and must figure out how to escape. One of the characters in the ensemble is Lee Su-hyeok who is played by a fast-rising Korean talent.
Park Solomon has experience with fantasy series
The character of Lee Su-hyeok is played by Park Solomon, who first made his acting debut in 2014 with the drama "Bride of the Century," playing the younger version of the main character Choi Kang-joo. That was not the only time Park was seen on TV in 2014, however, as he also appeared on the TV drama "Legendary Witch" as the teen version of the character Ma Do-hyun. 
2017 brought Park his first major role in the teen fantasy drama "Sweet Revenge," which focuses on a teenager who gets a magical note that allows them to take revenge on anyone whose name is written on it. Park playing Shin Ji-hoon, a student at the school. Park also appeared in a supporting role in the 2017 action-thriller TV series "The Guardians," where he plays Yoon Shi-wan.
Park appeared in another leading role in 2019 in the fantasy TV series "Lookism," which focuses on the story of Tuo Wen-shuai who discovers he can switch between two bodies, one handsome and one not. Park plays the handsome version of the character, as well as Kris, the original consciousness of the body.
"All of Us Are Dead" is currently available on Netflix.