Who Plays Cheong-San In All Of Us Are Dead?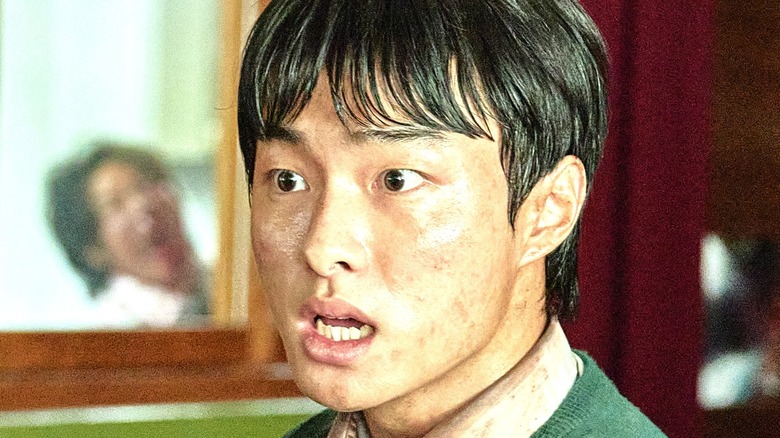 Yang Hae-sung/Netflix
The zombie genre has been a mainstay in film and television for years. Movies such as "Day of the Dead" and "28 Days Later" and TV shows such as "The Walking Dead" (not to mention its numerous spin-offs) have proven the genre's appeal to audiences and its increasing popularity time and time again. So beloved, so universal, and so thematically rich are these zombie-filled projects that it's hardly a surprise the genre's gone international.
In 2016, South Korea made an impact on the genre with the horror film "Train to Busan," which focuses on a group of passengers on a train who have to band together to fight off an ever-increasing zombie infection spreading across the train, as well as the entirety of the country. The film, which stars "Squid Game" actor Gong Yoo, was followed soon by "Train to Busan Presents: Peninsula," this left people eager to see what the country would produce next in the genre.
A new addition has now been added to South Korea's zombie exports in the form of the Netflix series "All of Us Are Dead." The show focuses on the students at a high school where there's a zombie outbreak. Over the course of 12 episodes, audiences watch as these students, who are caught in an unthinkable horror, fight for survival. One of the students in this ensemble is Lee Cheong-san and fans might be curious to know more about the actor who plays the role. Here's what we know.
This All of Us Are Dead star is already a veteran of South Korean TV
The role of Lee Cheong-san is played by Yoon Chan-young. Yoon began his career at a young age, getting his first credited role at age 12 in the romantic television drama series "When A Man Falls In Love," according to his MyDramaList profile. On the show, Yoon plays the younger version of Lee Jae-hee, who is played as an adult by Yeon Woo-jin. The "All of Us Are Dead" actor returned to the small screen in 2013 with "Monstar," a musical series where he plays the younger version of Jung Sun-woo alongside Kang Ha-neul, who plays the older version.
2014 brought Yoon's first starring role, in the children's detective series "Pluto Squad," where he plays Lee Woo-jin, one of a quartet of intrepid kid detectives. Yoon followed that up with another lead role, this time in the TV drama series "Mama," where he plays Han Geu-roo, whose mother, Han Seung-hee (Song Yoon-ah) is determined to get him to be part of his biological father's family when she discovers she has a terminal illness.
Yoon, however, continued his streak of playing the younger version of established characters, appearing in shows such as the romantic drama "Gap Dong" and the historical drama "Six Flying Dragons." 2019 saw Yoon appear in another lead role, this time in the high school romance series "Everything and Nothing," where he plays Go Min-Jae.
"All of Us are Dead" is currently available on Netflix.