The Worst Storyline In NCIS Season 14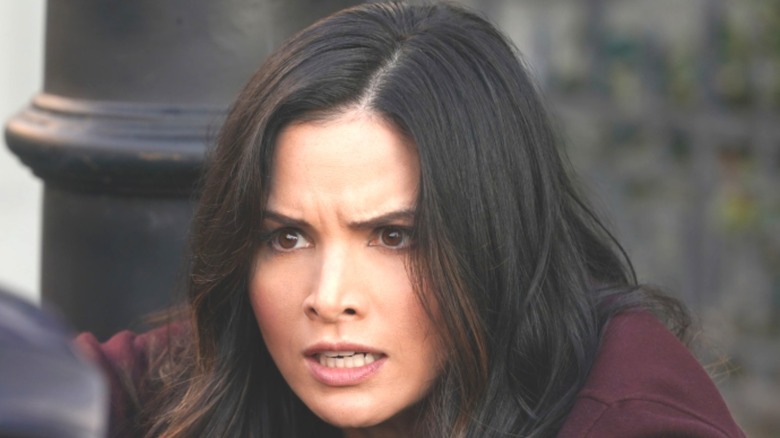 Sonja Flemming/CBS
For decades, police procedural shows have had a certain level of suspense that makes them incredibly popular. Sometimes one show runs for decades, like the crime drama "NCIS," which first aired in 2003. The show is currently on its 19th season and continues to hold the attention of both longtime and first-time viewers.
While the members of the main cast have come and gone, and the show has gone through several transition periods when introducing new agents to the team, overall, the story arcs have remained solid and exciting. Everything can't always be perfect, though, and some seasons have storylines in them that have fallen a little flat.
Season 14, in particular, is a big moment of change on "NCIS." Being the first season since long-time agent Tony DiNozzo (Michael Weatherly) left the team for good, there were some big shoes to fill. While the show effectively carried on, there are a few pieces of the overall "NCIS" journey in Season 14 that fans of the show are less than happy about. However, there appears to be an overall consensus on which one is the worst.
Agent Quinn made an abrupt exit from the show
After Tony DiNozzo departed, creators brought in two new agents to the "NCIS" crew — Nick Torres (Wilmer Valderrama) and Alexandra Quinn (Jennifer Esposito). Torres is still on the show as of Season 19, while Quinn is not. She is introduced in Season 14, Episode 1, "Rogue," and she is a central focal point for the show throughout the season. Her character has a lot of telling backstory focus, which is why fans were surprised when Jennifer Esposito abruptly exited "NCIS" at the end of the season. "Seems like they could have waited until they knew she might actually be staying before they really pushed her character," Redditor u/Northsidebill1 posted.
Some fans were happy that agent Quinn left, even though there was so much time spent building her character. "Her character was really annoying, and having so much of her was tiring and made it hard to watch the show," u/sinna_fain opined. Quinn resigned from the NCIS team to be closer to her family at the end of Season 14 and hasn't made any sort of return to the show since. 
While there is a heavy focus on her character throughout the season, the series was merely trying to find the best way to carry on with the new cast. Furthermore, Esposito revealed on Twitter that Quinn was only meant to stay for one season. But with all that in mind, there hasn't been anyone else on the "NCIS" team who has had the same rapid exit since Quinn.