Yet Another Major Character Is Leaving CSI: Vegas For Good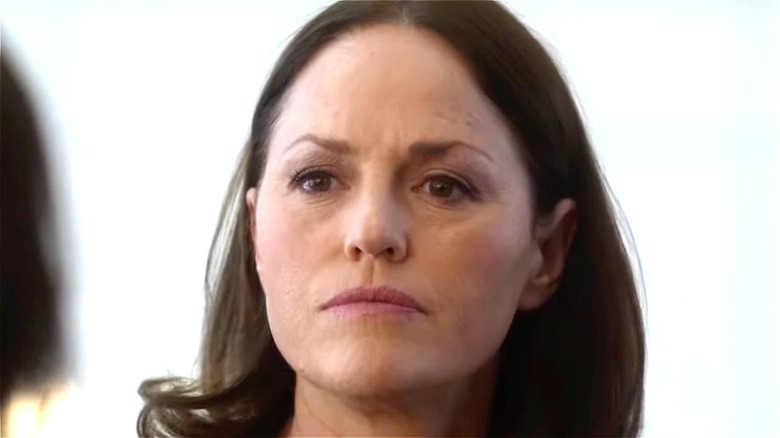 CBS/YouTube
When it comes to the "CSI" franchise, "CSI: Vegas" is a mix of something old and something new. Since the sequel to the original "CSI" premiered in October 2021, it's offered up the same formula of high-tech criminal investigations that fans have come to know and love. Even better, it brought back two classic characters from the original iteration: Gus Grissom (William Petersen) and Sara Sidle (Jorja Fox).
On the other hand, "CSI: Vegas" is quite a bit different than the usual "CSI" fare. Instead of relying on an episodic structure with a "case of the week," this version tells a serialized story over multiple episodes. On "CSI: Vegas'" first season, a case involving Grissom and Sidle's old colleague David Hodges (Wallace Langham) jeopardizes the integrity of the entire Crime Lab. The case threatened to undo thousands of convictions that the Lab has helped obtain over the years.
Season 1 performed well enough that CBS decided to renew it for a second season (see below). However, the show won't be quite the same as it was before. Multiple cast members have announced that they won't be returning. Here are all the details.
Chief Medical Examiner Hugo Ramirez, we hardly knew ye
As reported by TV Line, Mel Rodriguez has decided not to return for "CSI: Vegas" Season 2. Rodriguez played the handlebar-mustached Chief Medical Examiner Hugo Ramirez. Rodriguez hasn't shared the reason for his departure. A source close to the show said that Rodriguez would not be returning as a series regular, which theoretically means it's possible he might return for more guest appearances down the line — but that's unconfirmed. 
Rodriguez is the latest cast-member to depart the series in what has been a busy offseason full of shake-ups among the cast. William Petersen won't be back, although that was the plan all along. This week, Jorja Fox announced on Twitter that she won't be returning, either. 
"After much deliberating, I have decided not to 'Sidle up' for 'CSI Vegas,'" she wrote on Twitter (via Deadline). "For me, 'CSI' has always been a love story. The story that people can find love in the darkest of places and times," she wrote. "And the story that love, even in the darkest of places and times, can expand and grow roots and endure. I personally just can't split Sara and Grissom up again. So goes Grissom... So goes Sara."
Clearly, "CSI: Vegas" is going to look much different in Season 2. The good news is, CBS renewed the show for a second season, which should air during the 2022-2023 broadcast season (via Deadline).