Who Is The Actress In Vroom's Super Bowl 2022 Commercial?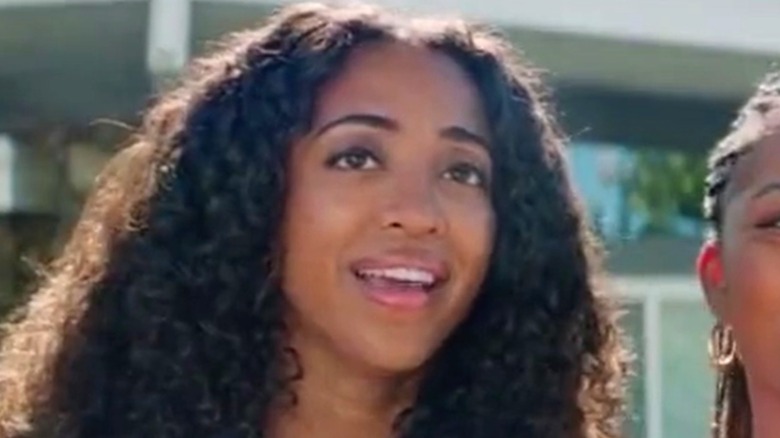 Vroom
Online car retailer Vroom's Super Bowl LVI commercial is a 30-second long full-blown musical, and if it gives you vibes of "La La Land," that's because they were choreographed by the same person: three-time Emmy winner Mandy Moore (no, not the one you're thinking of). Per a behind-the-scenes video, the barely 30-second spot took three months to film, 56 hours of rehearsal to get the musical number right, and employed a cast of 47 to bring this whimsical story to life. That might all seem like an incredible amount of prestige and effort for a commercial, but this is the Super Bowl, after all.  
Titled "Flake: The Musical," the spot sees a woman celebrating after finally finding someone who wants to buy her car. As she and a group of passersby on the street dance and sing about her seemingly successful deal, she suddenly gets a text from the buyer and, downcast, says, "He backed out." The dancing abruptly stops when he flakes out, but the day is saved when she contacts Vroom, and the commercial ends happily with Vroom picking up her car. 
If you enjoyed the mini-musical and are trying to figure out who its star is, her name is Ariana Rosado, and up until this point, she's been better known as a dancer.
A chance audition changed everything for Ariana Rosado
Ariana Rosado grew up in East Chicago, Indiana. According to talent agency bloc los angeles, who represents Rosado, she graduated Summa Cum Laude with a degree in Mass Communications and Business Marketing. But something happened her junior year of college that altered her focus completely. After taking a chance and auditioning, she was notified that she was one of 60 dancers selected to perform "Run the World (Girls)" with Beyonce on the finale of the "Oprah Winfrey Show." To say she was excited would be a complete understatement. "It was one of the most memorable moments of my life," she told The Beverly Review.
Since getting that big break, Rosado has joined the Chicago Bulls dance team, appeared on the show "Empire," and has danced for musical artists like Bebe Rexha, Gwen Stefani, and Iggy Azalea. In 2011, following her Beyonce gig, she told The Beverly Review of her ambitions for her dance career, "I'm trying to catch up to the people who have been technically trained ... It's something that I want to keep doing." 
Based on all the success she has had since then, including her starring role in "Flake: The Musical," it looks like Rosado is well on her way to achieving those goals.