Why The Suicide Squad Has Peacemaker Fans Worried For Eagly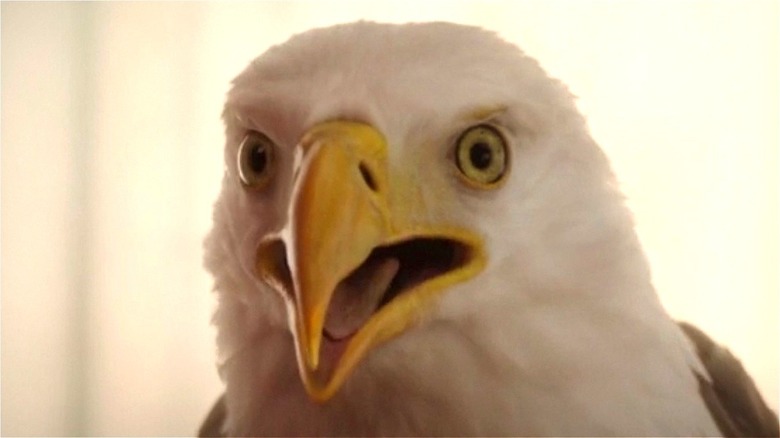 HBO Max
"Peacemaker," much like "The Suicide Squad" before it, features a rather large ensemble cast of misfit characters. From the eponymous Peacemaker aka Chris Smith (John Cena) himself, to Leota Adebayo (Danielle Brooks), to even Adrian Chase aka Vigilante (Freddie Stroma), "Peacemaker" has a diverse stable of characters that filmmaker James Gunn has become known for. Interestingly enough, "Peacemaker" also features Eagly, who serves as Smith's animal companion throughout the show, almost similar to Groot's role in Gunn's "Guardians of the Galaxy" movies.
Unlike Groot, Eagly doesn't possess the ability to speak, but he does serve as something of a mascot for Smith's mission statement, and the eagle is fiercely loyal to Peacemaker. However, there's a certain subset of the fanbase that is worried about Peacemaker's eagle companion and his fate. A lot of this worry comes on the heels of the latest episode of the show, "Monkey Dory," as "Peacemaker" nears the end of its first season. And they're using certain events from "The Suicide Squad" to back up their fears.
Some Peacemaker fans are worried that James Gunn will kill off Eagly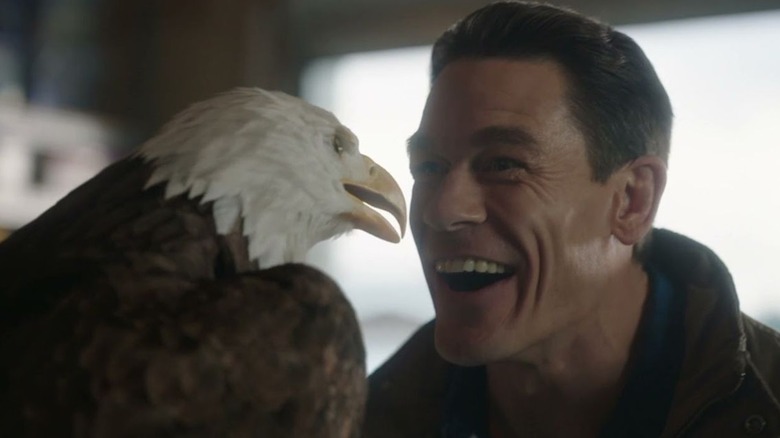 HBO Max
Over on the r/PeacemakerShow subreddit, u/your_mind_aches created a discussion post for "Monkey Dory," and while there was the usual chatter about the events of the show, some fans brought up Eagly. Namely, u/numbr87 talked about their fears that James Gunn would kill off the eagle companion. "Also, I'm TERRIFIED that James Gunn is going to kill Eagly because that's the exact kinda s*** he likes to do and I'll never be able to watch the show again," they wrote. u/Shijin83 agreed, while bringing up Gunn's penchant for killing birds in "The Suicide Squad." "Dude, he was on a bird killing rampage in The Suicide Squad! I really think Gunn hates birds, lol."
With three episodes left of Season 1 of "Peacemaker," there's still every possibility that Gunn could, in fact, kill Eagly before the show wraps up. Even outside of birds, Gunn does enjoy killing off characters to raise emotional stakes. It would certainly be a devastating moment for the eponymous character, though fans will simply have to wait and see what happens.