Denzel Washington's Lowest-Rated Movie You Probably Forgot Existed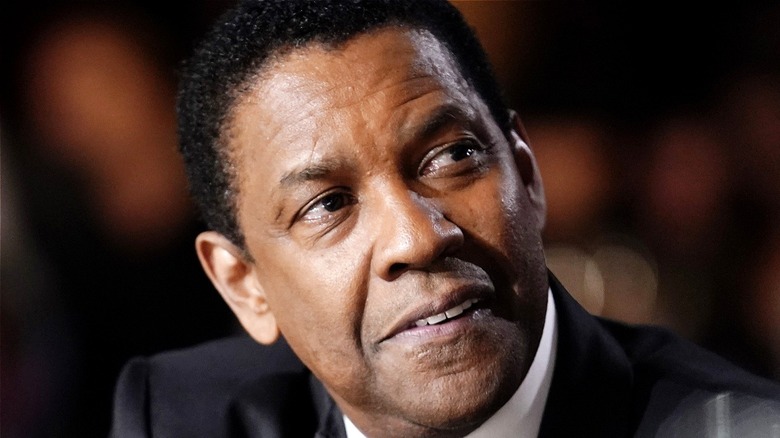 Erik Voake/Getty
Denzel Washington is Hollywood royalty. With a legendary career spanning over four decades, the two-time Oscar-winning star of such classic films as "Crimson Tide," "Remember the Titans," and "Training Day" has long been a huge box office draw. His unforgettable intensity and charm have helped him win over critics and audiences alike over the years. First catching attention on the popular television series "St. Elsewhere," followed by an Academy Award-nominated turn in 1987's "Cry Freedom," the now 67-year-old actor has well over 50 credits to his name (via IMDb).
As with any great talent, Washington has dazzled in a wide variety of roles, excelling in his portrayals of both heroes and villains. He won his lone Best Actor Oscar for playing a crooked and ruthless cop opposite Ethan Hawke in 2001's "Training Day," while his other Oscar win (for Best Supporting Actor) came off his riveting performance as a slave-turned-soldier in the 1990 Civil War drama "Glory," which also stars Morgan Freeman and Matthew Broderick (via IMDb). Over the course of his celebrated career, Washington has worked with almost every A-list actor and filmmaker in the business. That doesn't happen by accident.
This is not to say that every project Washington's been involved with has been a winner. No one in the movie industry is bulletproof (all due respect to superheroes), as they all have hits and misses on their resumes. Washington is no exception, and early in his rise to fame and fortune he starred in a poorly received film that probably doesn't show up much in his highlight reels.
Denzel Washington put his heart out there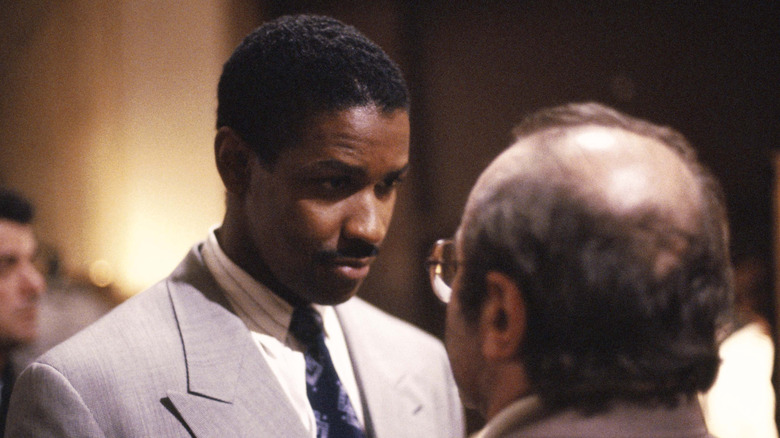 New Line Cinema
In an unfortunate case of bad timing, Denzel Washington's immediate follow-up to his award-worthy showing in "Glory" turned out to be the clunky comedy-mystery "Heart Condition." In this wildly uneven film, Washington essentially plays the ghost of murdered lawyer Napoleon ("Napolean"? Really?) Stone, whose heart ends up as an organ transplanted into a cartoonishly gruff cop, Jack Moony (Bob Hoskins). This has the effect of bonding the two somehow, and a cop-ghost buddy movie ensues. Keep in mind, everyone involved in the making of this movie was a willing participant. To be fair, a few months later, another spirit-themed movie, "Ghost," became the biggest hit of the year. Ladies and gentlemen, 1990!
"Heart Condition" lost the box office battle of the dueling apparition-themed movies, netting a total of only $4 million (via Box Office Mojo), while "Ghost" claimed north of $200 million. Equally distressing is the retrospective 0% Rotten Tomatoes critic rating for "Heart Condition," via Insider in 2019. Although it looks like a few critics saw the film recently, as the movie currently sits at 10% on Rotten Tomatoes, so things are trending up!
Again, in fairness, the failure of "Heart Condition" can hardly be blamed on Washington's performance, but clearly something was missing, aside from Patrick Swayze, Demi Moore, and Whoopi Goldberg. "Heart Condition" and "Ghost" even have similar plots, so why did one movie work and not the other? Like they say in Hollywood, nobody knows anything — although that Swayze and Moore clay molding scene in "Ghost" probably helped. As for Washington, clearly he moved on to bigger and better things, but if you (or he) thought you could forget about "Heart Condition," perhaps you haven't met the internet.