The Fan-Favorite Role Mickey Rourke Regrets Filming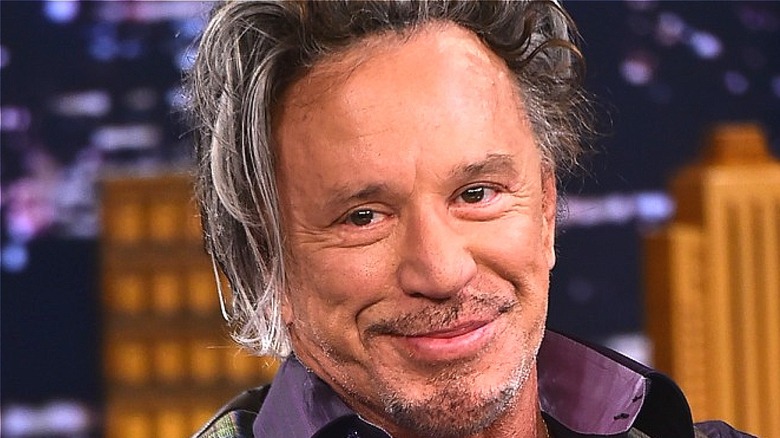 Theo Wargo/Getty
Way back when the ever-expanding world of the Marvel Cinematic Universe was but a twinkle in an iron helmet, the franchise that was in its infancy landed a slightly limp sequel in the form of "Iron Man 2." Unquestionably parked at the bottom half of the list for most Marvel movie-loving fans, Tony Stark's second run in his iconic suit wasn't greeted with the best reception, earning one of the lowest scores of the film series on Metacritic to date, with Empire calling it, "inessential, over-busy and a little, well, mechanical" and The Hollywood Reporter asserting that the sequel had replaced "everything fun and terrific" about the first movie with "noise, confusion, multiple villains, irrelevant stunts and misguided story lines."
Desperately trying to lay down the threads that the franchise would be defined by, the third film in the MCU struggled in part thanks to its rushed, busy story and cookie-cutter villain in the form of Mickey Rourke's Whiplash. The star's appearance was somewhat of a dip from the difficult but revered return to form he gave the world with his Oscar-nominated turn in "The Wrestler" two years prior, and he has been very vocal about it from the beginning.
Rourke suffered major Whiplash in Iron Man 2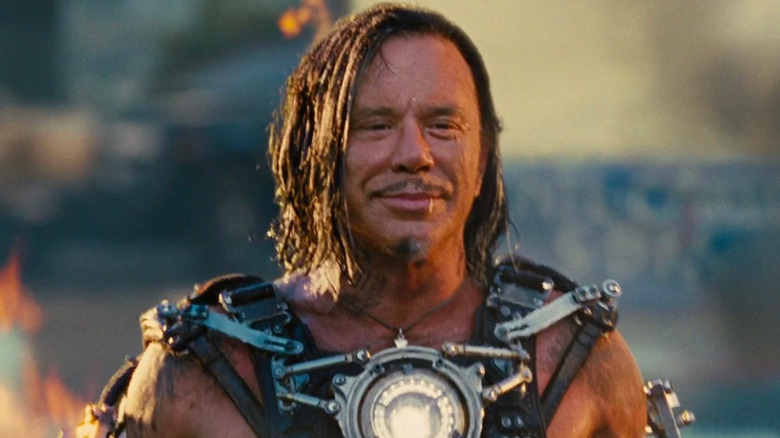 Marvel Studios/Disney
Mickey Rourke spoke to Mandatory in 2011, breaking down his perspective on the makings of a Marvel movie and the limitations he was given. "At the end of the day you've got some nerd with a pocketful of money calling the shots," Rourke explained. "I wanted to bring some other layers and colors, not just make this Russian a complete murderous revenging bad guy. And [writer Justin Theroux and director Jon Favreau] allowed me to do that. Unfortunately, the [people] at Marvel just wanted a one-dimensional bad guy, so most of the performance ended up [on] the floor." He went on to express his frustration with the Marvel machine, saying, "Favreau didn't call the shots. I wish he would have."
Even a decade on, it seems that his frustration with the role has not subsided. In a 2021 Instagram post, Rourke took time out to share his praise for some of the performances on the long-running show "Law & Order: Special Victims Unit" while still managing to throw shade at the MCU. "Respect to all of you, the work that you all do is real acting," he said. "Not like that crap that all on Marvel s***." As we all know, though, the MCU has continued to go from strength to strength since "Iron Man 2"; it's just a shame Rourke never got the chance to be in more of it.