Fans Were Loving The Book Of Boba Fett's Homage To This Classic Sci-Fi Movie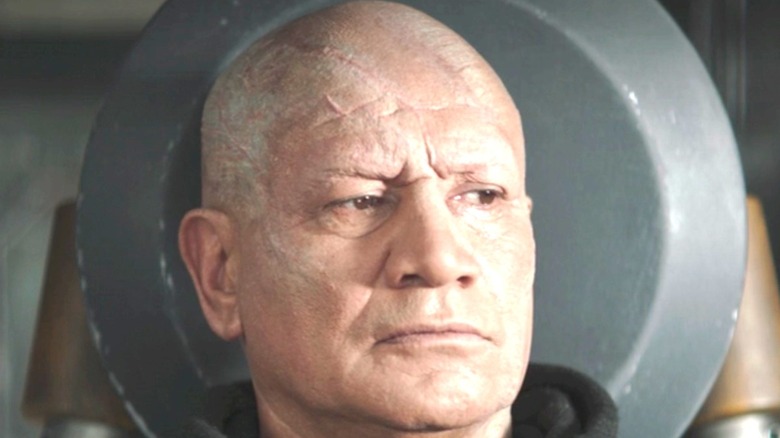 Lucasfilm/Disney+
Spoiler Alert
For those that may have been living in a Rancor pit recently, you'll be unaware that "The Book of Boba Fett's" fifth episode arrived this week, and it was one fans just weren't ready for. Shifting the focus away from Tatooine's self-appointed Daimyo and taking time to have a good old catch-up with our pal, "The Mandalorian," we were treated with an action-packed and altogether emotional reunion with everyone's favorite bounty hunter-come-babysitter. In between it all, though, a number of nods were big, small, and all-out "wizard" references to the franchise in a galaxy far, far away, thanks to the brilliant direction of Bryce Dallas Howard.
From familiar droids to forgotten spacecraft, "The Return of the Mandalorian" was rife with heartwarming homages that would have left any "Star Wars" fan in full grin mode. However, there was one moment in this week's installment that echoed similar imagery to another beloved entry in science fiction. One that, incredibly, isn't even linked to "Star Wars."
The Book of Boba Fett moment that was straight out of The Terminator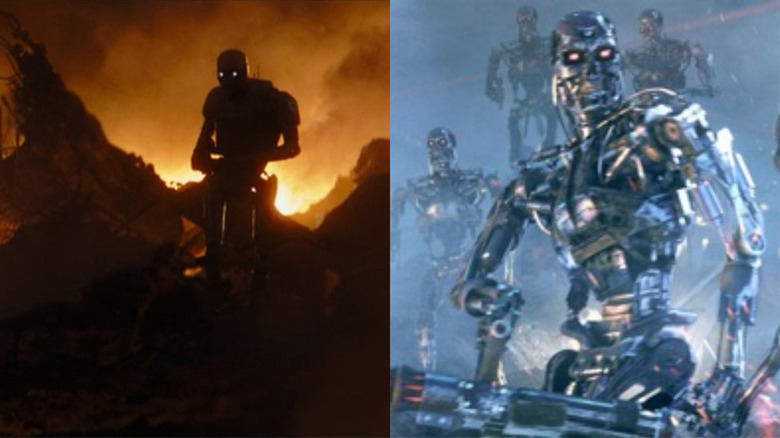 Warner Bros/Lucasfilm/Disney+
During Mando's meeting with The Armorer, the stoic metal worker regales in the horror that was the destruction of Mandalore. The home planet for all Mandalorians was invaded by the Empire and laid to waste, leading its people to scatter to the far reaches of space. Interestingly, this historical horror story on the planet's Judgement Day had an eerie similarity to the one from "The Terminator" franchise (of which Howard starred in for "Terminator: Salvation", and fans didn't hesitate to call it out.
@CorvotheBlack was quick to post to the Twittersphere, "anyone else get 'Terminator' vibes," adding a photo comparison between this week's darkest moment and James Cameron's beloved franchise. For many, it checked the boxes perfectly, as @TwinSunsLuke said, "Ok, that scene where they show the destruction of Mandalore looked like something straight out of 'The Terminator', and I loved it." @TrueIroningMan also said that "last night's 'Book of Boba Fett' turned into a Mandalorian episode, that turned momentarily into the opening scenes of 'The Terminator' about halfway through. Interesting.
Intentional or not, there's no denying that the images of human-shaped machines decimating a landscape won't spark Brad Fiedel's classic score humming in your head. Just another great moment among many, that we'll hopefully see more of when a new chapter of "The Book of Boba Fett" arrives next week.