The Hannah Montana Episode You Forgot John Cena Starred In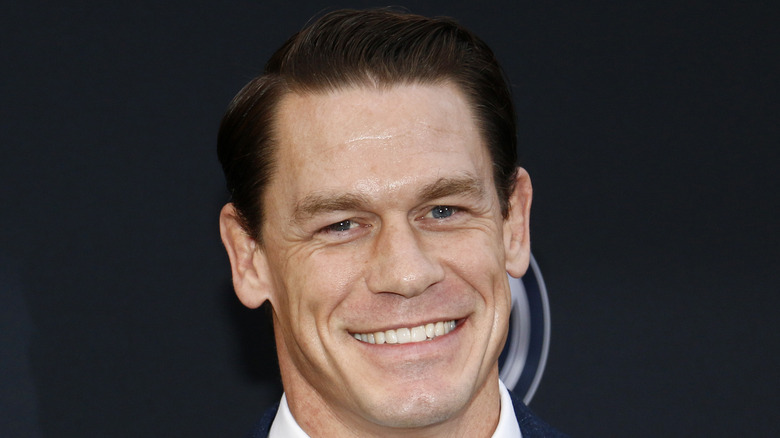 Tinseltown/Shutterstock
"Hannah Montana" is the show about the girl next door Miley Stewart (Miley Cyrus), and the teen pop sensation Hannah Montana (also Miley Cyrus), who just so happens to be the same teenage girl living her double life the best she can with two different personas. Seems simple enough.
The show crash-landed onto the Disney Channel in 2006, and between the series itself and the smash hits that came out of it, as performed both by Miley and by Hannah, it took the world by storm. Aside from the plotline itself, another unique thing about "Hannah Montana" was the number of guest stars who appeared on the show.
Everyone from Brooke Shields to Dolly Parton appeared on the series, but one episode starred the one and only John Cena. Arguably best known as one of the most iconic WWE Superstars of the 21st century, Cena has long since ventured out into acting, with a long list of credits that includes quite a few children's movies like "Ferdinand" and "Scooby-Doo! WrestleMania Mystery." It's not surprising that Cena appeared in an episode of "Hannah Montana," but the specific episode in which he guested may be surprising for those who don't know which one.
John Cena was in Season 4 of Hannah Montana
Season 4 of "Hannah Montana" was renamed "Hannah Montana Forever" due to the fact that it was the final season of the entire series. However, viewers don't get to see John Cena until midway through the season. In the episode "Love That Lets Go," the wrestler-turned-actor guests as none other than himself and appears in the episode's subplot in a bit with Miley Stewart's brother Jackson (Jason Earles). When Jackson gets sidetracked from reading his book and decides to look at a wrestling magazine featuring Cena, the WWE star hops off the page to give a rather brutal motivational speech.
One moment he's in a magazine. The next, he's in the living room of the Stewart household giving Jackson a run for his money. While performing some signature wrestling moves on Jackson, Cena explains to him how important it is for people to read books. It's a funny way to get the point across, but Cena's moves work, and when Jackson wakes up from what thankfully is a dream, he does what he's supposed to and begins to read his actual book. Leave it to Cena to perfectly mesh the wholesome lessons provided in "Hannah Montana Forever" with his in-ring moves.