The Real Reason Dr. Browne Won't Be Returning To The Good Doctor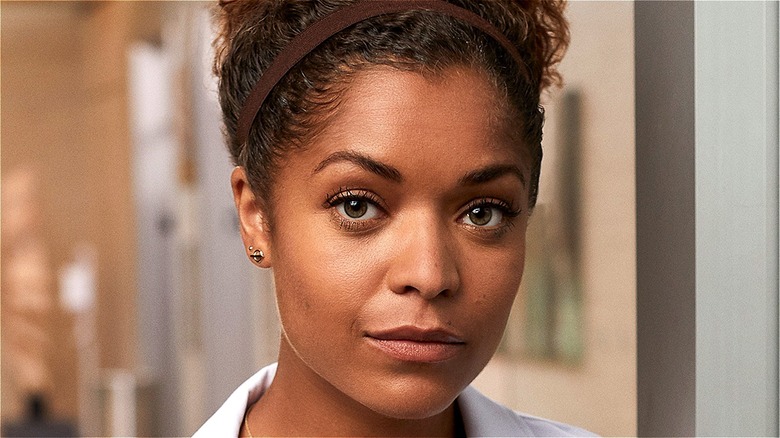 Art Streiber/ABC
"The Good Doctor" has said goodbye to some notable characters throughout its run. Created by David Shore, the ABC series stars Freddie Highmore as a young man with Savant syndrome and autism named Shaun Murphy and follows him as he begins working as a surgeon at St. Bonaventure Hospital in San Jose, California. Considering how often both Shaun and the show as a whole deal with life-and-death situations, it was always inevitable that fans of "The Good Doctor" would have to watch certain characters leave the series over the years.
As a result, whether the character in question was someone like Nicholas Gonzalez's Dr. Neil Melendez or Jasika Nicole's Dr. Carly Lever, the first few seasons of "The Good Doctor" featured several heartbreaking deaths and departures. However, few of the show's cast exits have been quite as shocking or difficult for fans to come to terms with as when Antonia Thomas' Dr. Claire Browne left the series at the end of its fourth season. The show's Season 4 finale, titled "Vamos," sees Claire decide to stay in Guatemala in order to continue helping those with limited access to medical care.
The character's "Good Doctor" exit, while heartwarming, was undeniably surprising. It was so unexpected, in fact, that many viewers may still not know why Thomas really left the ABC drama.
Antonia Thomas left The Good Doctor to pursue new 'creative opportunities'
In a June 2021 interview with Deadline, Antonia Thomas opened up about her decision to step away from "The Good Doctor." The actor admitted that choosing to leave the series was a "really, really difficult decision," saying, "I feel so lucky and basically indebted to David Shore and the writers for having the experience to play Claire, who has just been a wonderful, wonderful character to explore." However, Thomas revealed that she decided to say goodbye to "The Good Doctor" because she thought the series had "run the gamut of different things that Claire can have gone through," adding that she is "really excited to explore different creative opportunities."
"For me, as an actress, having versatility and creativity has been something that's been really, really important," Thomas said. "I think after dedicating four years to Claire and her journey and really, really exploring the character, I am just now ready to try something new, ultimately." The actor additionally revealed that she first approached creator David Shore about wrapping up Claire's story after they'd finished filming "The Good Doctor" Season 3. Thomas went on to say that Shore was "very wonderful and gracious and helpful" when it came to crafting the character's exit.
In other words, Dr. Claire Browne's "Good Doctor" departure was the direct result of Thomas wanting to pursue other opportunities and projects. Despite that, the actor has expressed an interest in possibly reprising her "Good Doctor" role in a guest capacity in some of the show's future episodes or seasons. Indeed, when asked by Deadline if she'd be open to returning to the ABC series, Thomas said, "Absolutely. I've had conversations with Freddie [Highmore] about coming back, and absolutely, yes. ... I absolutely would love to come back every now and then."