Is The Wedding Singer Based On A True Story?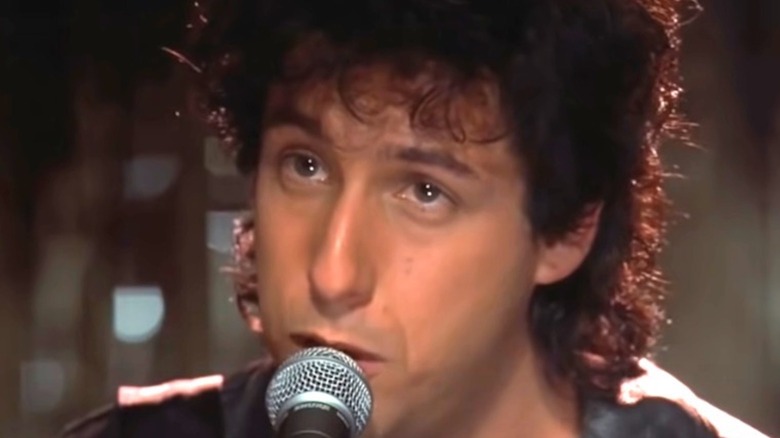 New Line Cinema
Actors Adam Sandler and Drew Barrymore have co-starred in three different romantic comedies together, including 2004's "50 First Dates" and, more recently, 2014's "Blended." But their first collaboration came in 1998 with "The Wedding Singer," directed by Frank Coraci and written by Tim Herlihy. Set in 1985, the film follows Robbie Hart (Sandler), a wedding singer from New Jersey, who, after getting left at the altar, meets a waitress named Julia (Barrymore). Julia enlists Robbie to help plan her wedding (and sing at it) — which results in Robbie soon falling in love with her.
Like any classic rom-com, "The Wedding Singer" includes a meet-cute, plenty of misunderstandings, secondary love interests and a happy ending. Still, despite the cliches, viewers may be wondering if "The Wedding Singer" is at all based on real events — after all, the palpable and convincing chemistry of Barrymore and Sandler helps to elevate the story and make even the most unrealistic moments seem feasible.
The Wedding Singer is fiction — but pulled from real emotions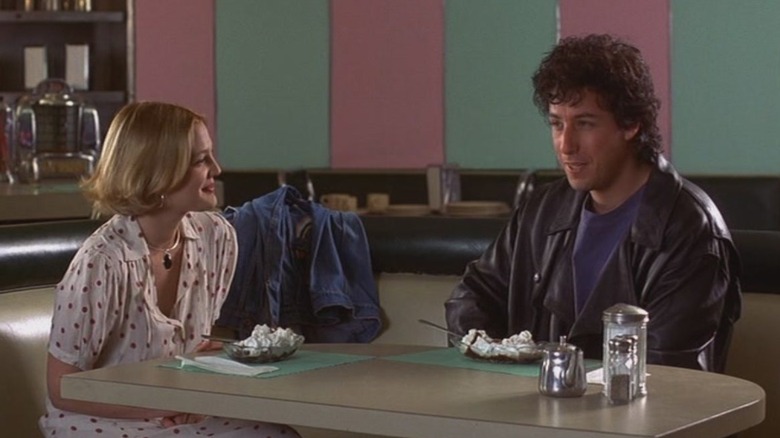 New Line Cinema
In 2011, director Frank Coraci spoke to The Hollywood News for an interview. They discussed his career as a filmmaker and delved into making "The Wedding Singer."
Interviewer Katie McCabe asked if Coraci has a "a relationship for every movie," in the same way that a musician might have a relationship story behind every song. Coraci responded that, at the time of the interview, he had been with his girlfriend for four years — and through several films — but revealed that the statement rang true before meeting her. He brought up the experience of making "The Wedding Singer" a couple years after a major breakup. He said, "I think when I did 'The Wedding Singer' I had just had my heart broken a couple of years before so I remember laying in bed and not being able to move, so it was easy to tap into that pretty quickly. I think the distance between those [two] things was good, it let me look at it differently and allowed it to be funny. I think if [it] had happened before, 'The Wedding Singer' would have been one seriously depressing movie."
In other words, the events of "The Wedding Singer" may not have happened to Coraci, but the film was made more compelling — and believable — because he was able to pull from his own experiences while directing.