The Surprising Movie Tom Cruise Regrets Passing On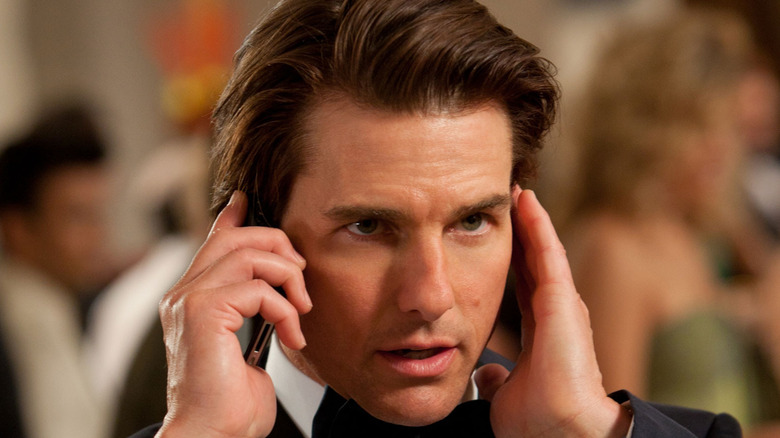 Paramount Pictures
How many movie stars from the '80s are still shining as brightly as Tom Cruise? It's a short list. The seemingly ageless actor (59 in human years), who first made the world notice him with hits like "Risky Business" and "Top Gun" – the latter of which has a long-gestating sequel due for release on May 27 (per Variety) — continues to light up the box office today with new chapters of his wildly successful "Mission: Impossible" franchise (two more of which are on the way, reports The Indian Express), among other films. His impressive resume is littered with high-profile projects from the last 40 years, including "Rain Man," "The Firm," and "Jerry Maguire."
Getting to the top in Hollywood is hard enough, but staying there is even harder. Despite some career setbacks and jumping on Oprah Winfrey's couch in an unbridled display of affection for Katie Holmes (yeah, that really happened), Cruise has managed to win over audiences time and time again, making himself a rare commodity in the process. He's shown remarkable versatility in his roles, collected three Oscar nominations, and even revealed his funny side, popping up in comedies like "Tropic Thunder" and "Austin Powers in Goldmember."
As one would imagine for a star of his caliber, Cruise has declined many parts in many movies over the decades, and while some would ultimately be bullets dodged (according to Nile FM, he supposedly passed on "John Carter"), others would go on to be big hits without him. One of those missed opportunities was ultimately a huge success for its leading man, who nabbed a Best Actor nomination, while the movie walked away with a Best Picture trophy.
Tom Cruise didn't do the math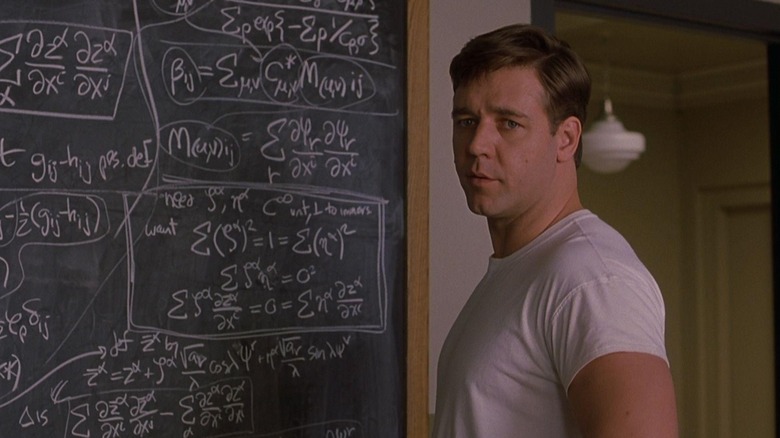 Universal Pictures
Can you picture Tom Cruise as the brilliant mathematician John Nash, struggling with mental health issues? While it may be hard now to imagine anyone in that role besides Russell Crowe, it could have happened, according to an Australian Broadcasting Commission interview. The seminal 2001 film "A Beautiful Mind" starred Crowe, Ed Harris, and Jennifer Connelly. The Ron Howard-directed tale based on a true story currently sits at 74% on Rotten Tomatoes and earned $316 million worldwide in ticket sales (via Box Office Mojo).
Before you dismiss the idea of Cruise as Nash, consider his dramatic chops as a paralyzed Vietnam vet in "Born on the Fourth of July," or as a tortured Civil War-era soldier in "The Last Samurai." But it's probably safe to say that Crowe nailed it with his performance. His portrayal of the nightmare Nash endured as he lost his grip on reality was a tour-de-force. If you're wondering why Cruise passed on the opportunity (via EW), all we know is that his "Vanilla Sky" movie came out around the same time.
With as many script offers as Cruise has gotten through the years, there were bound to be some that turned out better than he imagined. Every Hollywood star has a story like this. But even if "A Beautiful Mind" is in Cruise's pile of regrets, it never slowed him down. He had some other real beauties in mind.
If you or someone you know is struggling with mental health, please contact the Crisis Text Line by texting HOME to 741741, call the National Alliance on Mental Illness helpline at 1-800-950-NAMI (6264), or visit the National Institute of Mental Health website.