The Phantom Menace Reference You Might Have Missed In The Book Of Boba Fett Chapter 5
(Contains spoilers for Chapter 5 of "The Book of Boba Fett.")
Disney's new "Star Wars" property has brought about something fans never thought that they would see: the return of one of the most famed bounty hunters in the galaxy. After his appearance in "The Mandalorian," Boba Fett (Temuera Morrison) returns for his own adventures in "The Book of Boba Fett." No longer a bounty hunter but a crime lord in a district of Tatooine, Boba Fett battles assassins, trains with Tusken raiders, and even goes back to give the Sarlacc what it deserves.
Fett is joined by his loyal companion Fennec (Ming-Na Wen) as he struggles to gain control of his district. "The Book of Boba Fett" pays homage to the legacy of the ex-bounty hunter who should have died at the hands of the sarlacc in "Return of the Jedi." That is not the only legacy that is honored in the newest episode of the Disney series. There is one interesting reference to "The Phantom Menace" that crops up in Chapter 5.
Din Djarin returns with some choice words in chapter 5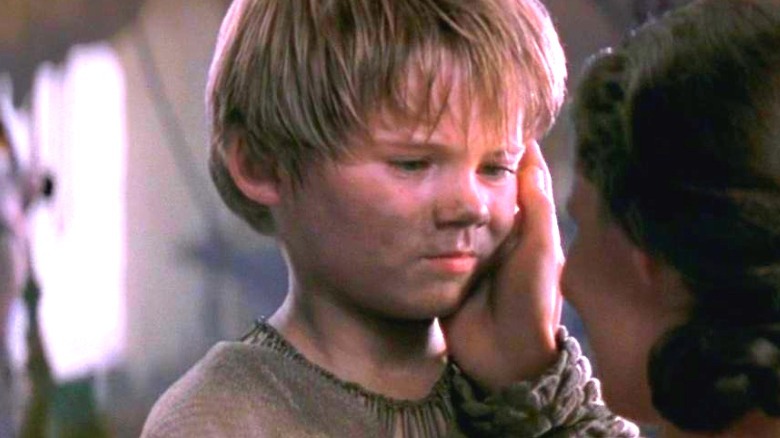 20th Century Fox
Chapter 5 of "The Book of Boba Fett" is less Boba Fett's chapter and more the Mandalorian's. With the success of Disney's other "Star Wars" property, fans shouldn't have too many complaints. Din Djarin (Pedro Pascal) returns in a detour from Boba Fett's story. The Mandalorian continues his bounty hunting while still in need of a replacement for his old ship, the Razorcrest (via The Wrap).
He reunites with Peli Motto (Amy Sedaris) who assures him that she has found a new ship for him. The ship is an N1 Starfighter, the ship that Anakin uses in "The Phantom Menace." But that isn't the only callback to the first prequel film. After Din Djarin tests out the ship, he returns to Peli. When she asks how it flew he responds simply, "wizard."
A compliment of high order, this term is used by none other than young Anakin himself in "The Phantom Menace." "The Book of Boba Fett" does not pick and choose what "Star Wars" films deserve references. The "Star Wars" prequels premiered Temuera Morrison as the original clone and the movies have since gone on to have a renaissance of sorts (via Inverse). The Disney era of television continues to respect what came before while having fun at the same time.