The Funniest Line From Syfy's Chucky Season 1 Episode 2 According To Fans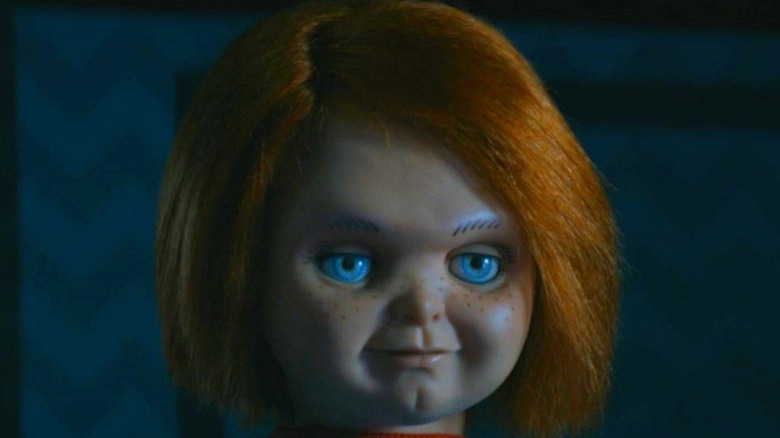 Syfy/USA Network/Peacock
Don Mancini's 1988 film "Child's Play" is one of the most beloved horror comedies of all time. While many of the film's sequels (and, definitely that 2019 remake) are not nearly as adored as the film that started it all, each new entry in the "Chucky" franchise aims to entertain in new and exciting ways. There are, however, two specific things in the series that remain constant.
First of all, Chucky likes to kill people. Chucky has killed a grand total of 67 people by the end of the seventh film in the series, 2017's "Cult of Chucky." Notably, Chucky has also proven himself to be an incredibly vulgar silver-tongued devil. Even if the plot of any given entry is found to be lacking, fans can rest assured that Brad Dourif (the voice of Chucky) will deliver a few clever one liners that are sure to send them cackling out of the theater once the credits roll. 
The same would seem to be true of the 2021 television adaptation, created by Don Mancini in collaboration with Syfy and USA Network. During the second episode of the series, Chucky delivers a line that especially amused fans on Reddit. So, what was this line about?
Chucky has mommy issues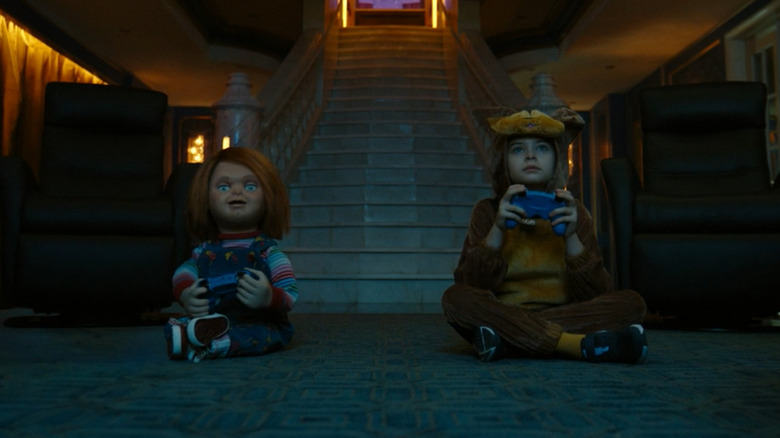 Syfy/USA Network/Peacock
In Season 1, Episode 2 ("Give Me Something Good to Eat"), Chucky spends an afternoon playing video games with Caroline Cross (Carina Battrick), the younger sister of Lexy Cross (Alyvia Alyn Lind). Because Lexy has repeatedly bullied Jake Wheeler (Zackary Arthur), Chucky is eager to see Lexy die. After murdering the maid at the beginning of Episode 2, Chucky's reign of terror continues when he does his best to convince Caroline to kill Lexy.
As the two play together, Chucky tells Caroline that she has potential to be a great killer. "I always say, 'Killing's good, clean fun for the whole family,'" Chucky tells her. "You can kill the housekeeper, you can kill the babysitter, you can even kill your sister." In response, Caroline says, "Mommy says, 'Real killing is bad.'" Chucky humorously replies, "Yeah? Well, Mommy's full of sh**." When Caroline says her mom disapproves of swearing too, Chucky remains unrepentant and delivers the most popular line of the episode, saying, "Mommy's working her way up my list pretty fu**ing quick." 
On a Reddit post made the same night the episode aired, a number of fans shared how much they enjoyed this line. U/Comic_Nerd2020 left a comment that approximately quoted the statement and followed it with three "face with tears of joy" emojis. This simple comment received more than 200 upvotes. U/Kainzy replied to this post by commenting, "The entire scene with the little sister was both cute, visually superb and then Chucky uttering that hilarious line completed it all."
The first season of "Chucky" is currently streaming on Peacock and the second season is upcoming.