The Comedy Film Series You Forgot NCIS' Maria Bello Appeared In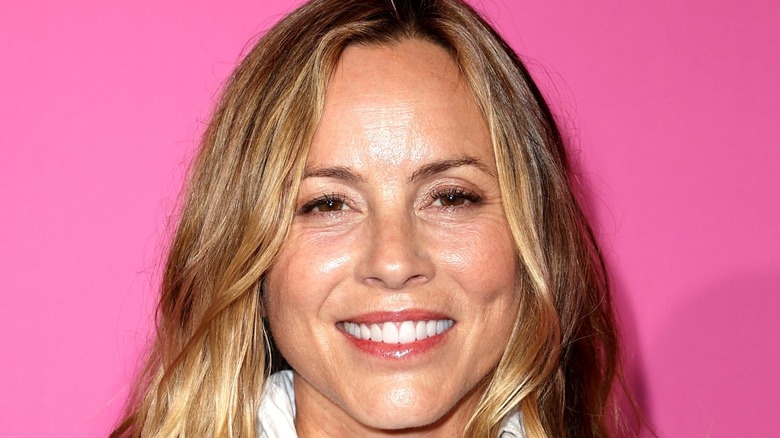 Kevin Winter/Getty
The smash-hit crime procedural "NCIS" has been on the air for nearly two decades and during that time, the show's fans have been introduced to plenty of new faces. In Season 15, one of those fresh faces was that of Maria Bello, who joined the series as Senior Special Agent Dr. Jacqueline "Jack" Sloane. A smart, capable, and funny woman, Dr. Sloane's warm personality felt like a contrast to the tragic backstory the show eventually revealed. But perhaps that's exactly why she seemed to spark with the ever-frosty Gibbs (Mark Harmon), who has no shortage of traumas of his own. Their potential romance never fully blossomed by the time Bello left the series in the middle of Season 18, but Dr. Sloane certainly made an impression on the world of "NCIS."
Prior to her stint on "NCIS," Maria Bello had a successful TV resume that included roles on "ER,"  "Prime Suspect," and "Goliath." She's also one of those actors who seem to effortlessly make the transition from TV to movies (and back again). Many fans of "NCIS" and of Bello may have forgotten that she also appeared in a series of movie comedies featuring an all-star ensemble cast. 
Maria Bello co-starred in Grown Ups and Grown Ups 2
Directed by Dennis Dugan and written by Adam Sandler and Fred Wolf, the 2010 comedy "Grown Ups" boasts an embarrassment of comedy riches in its cast, including the likes of Sandler, Chris Rock, Kevin James, David Spade, and Maya Rudolph. They were joined in the project by the more serious acting talents of Salma Hayek, Steve Buscemi, and Bello, who plays Sally Lamonosoff, the wife of James' character. "Grown Ups" tells the story of a group of former junior high basketball champions who reunite after the death of their former coach to spend 4th of July weekend together with their families. Hijinks and hilarity of a kind perhaps best described as "broad comedy" ensue, including a middle-aged man being shot in the foot with a bow-and-arrow and another hanging from a zip line by his feet and crashing into a shed.
While "Grown Ups" was not well received by critics, it did find an audience, bringing in $162M at the box office (via Rotten Tomatoes). In 2013, Bello even reprised her role as Sally in "Grown Ups 2," accompanied by most of the original core cast. 
The "Grown Up" movies may not be a highlight in Bello's impressive filmography that includes "Sin City," "A History of Violence," "Beautiful Boy," "Thank You For Smoking," and "Lights Out." But it does demonstrate the range and versatility of an actor who can move from serious drama to slapstick comedy, and achieve success on both the small and big screens.