Kayce's Most Heartbreaking Moment In Yellowstone Season 2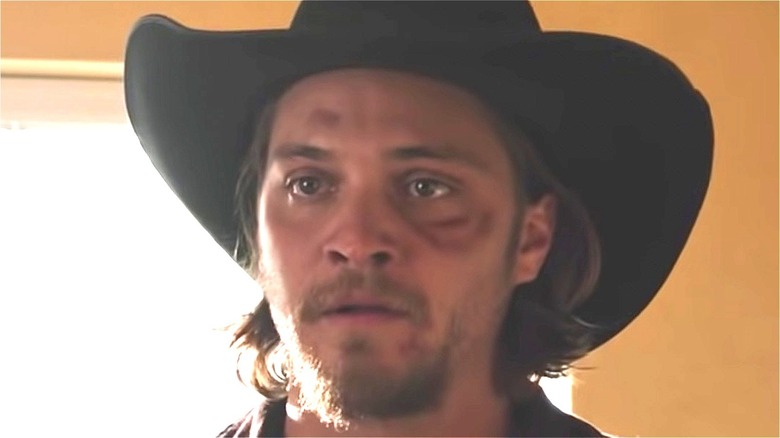 Paramount Network
Through the first two seasons of the hit neo-Western series "Yellowstone," each member of the Dutton clan has endured some emotional extremes. Family patriarch John Dutton (Kevin Costner) weathers the near constant assault and encroachment on his ranch from outside forces and has to deal with further health issues like an ulcer rupturing after secretly having surgery to remove his colon cancer — in addition to mourning the death of his eldest son, Lee (Dave Annable). Jamie Dutton (Wes Bentley) deals with the regular insults and disdain from his sister and a lack of support from his father, plus that whole "murdering a journalist" thing before finding out his former campaign manager and lover Christina (Katherine Cunningham) is pregnant with his child. Beth Dutton (Kelly Reilly), queen of the vicious insults, uproots her life to return to the ranch and help her father fight his battles, which results in her being brutally beaten and nearly killed by Malcolm (Neal McDonough) and Teal Beck's (Terry Serpico) hired henchmen.
Youngest Dutton sibling Kayce (Luke Grimes), however, perhaps rides the greatest emotional roller coaster. Having witnessed his brother Lee being killed, he is forced to kill his assailant, who just happens to be the brother of Kayce's wife, Monica (Kelsey Asbille). Kayce later considers returning to his special forces unit, as he feels otherwise unable to provide for his family. The strain between him and his wife results in him returning to live on the ranch, where John puts him in charge, displacing loyal, long-time employee Rip Wheeler (Cole Hauser). Kayce and Monica eventually reconcile and she and their son Tate (Brecken Merrill) come to live on the ranch in the main house as a happy family. One moment, however, serves as the lowest of lows that Kayce experiences. This is Kayce's most heartbreaking moment in "Yellowstone" Season 2.
The moment when Kayce finds Tate's boot hits the hardest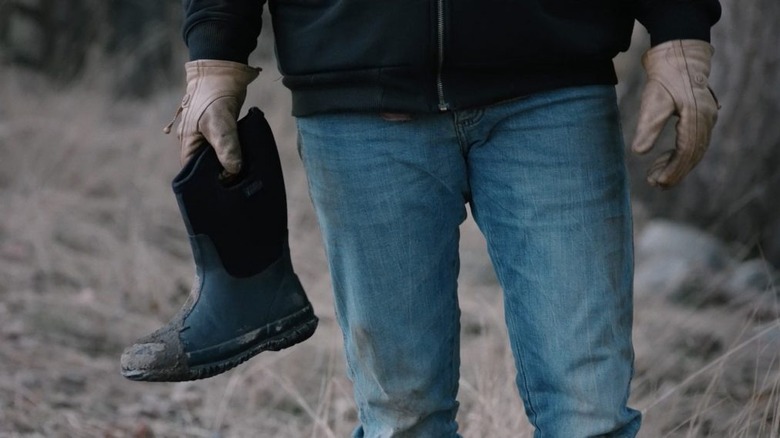 Paramount Network
Kayce Dutton's most heartbreaking moment came as his family's clash with the Beck brothers was getting hotter and it's the thing that caused it to boil over. In "Yellowstone" Season 2's ninth episode, lovable screw-up Jimmy Hurdstrom (Jefferson White) finds out that, despite the fact that he repaid his debt to his former meth-cooking buddies, Ray (Lane Garrison) and Blake (Ryan Dorsey), they went and killed his grandfather anyway. Rip, Kayce, Jimmy, Lloyd (Forrie J. Smith), and — surprisingly — Ryan (Ian Bohen) mount up to take care of business. 
Meanwhile, Tate is hanging out with Grandpa John, eating supper and contemplating dessert before the elder Dutton reminds him he's yet to feed his horse. After tossing Lucky some hay and failing to properly secure the latch on his enclosure, Tate is abducted by forces unseen; John realizes something is up when Tate hasn't come in for his ice cream and he finds the horse wandering his property. Kayce and company return to find the remaining family members and personnel fervently trying to find Tate; the next morning, while everyone is in the middle of a parallel sweep of one of the ranch's fields, John and Kayce notice tire tracks that shouldn't be there, prompting Kayce to break into a sprint along the path the tracks left, followed swiftly by everyone else. He emerges holding one of Tate's boots, seemingly confirming his abduction and nearly breaking his spirit.
"Yellowstone" fans reacted to the moment on social media. "I have never been so emotionally invested in fictional characters. @Yellowstone if the Duttons don't kill the Beck brothers and get Tate back I'm going to lose my s***," said Twitter user @MoMosilv95. "That final scene, when Kayce found Tate's boot, absolutely gutted me," user @ELI119386 replied, to which @MoMosilv95 agreed, saying they were on pins and needles during the scene.