Ethan Hawke Teases His 'Terrifying' Moon Knight Character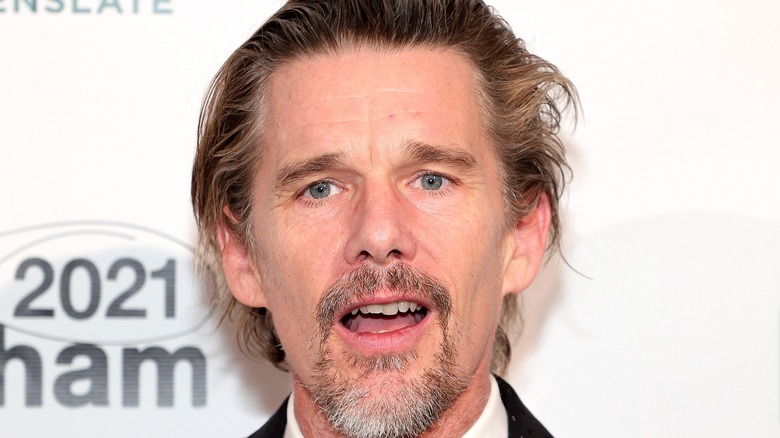 Theo Wargo/Getty
After releasing four different live-action Marvel series in 2021, Disney+ is prepping up to do it all over again this year. First on the list is "Moon Knight," another six-episode series focused on a classic Marvel comics character new to the Marvel Cinematic Universe. This series is set to star "Star Wars" alum Oscar Isaac as Marc Spector (aka Moon Knight), the late Gaspard Ulliel as Anton Mogart (aka Midnight Man), Ethan Hawke as a villain named Arthur Harrow, and May Calamawy in an unspecified role (via IMDb).
Marvel fans got their first full look at the upcoming series with the release of the first trailer on January 17 (via YouTube). Naturally, most of the action in the first sizable promo focuses on Oscar Isaac's character, but it also gives us a few glimpses at Hawke's character too. Sporting a religious tunic, long hair, and a cane, Arthur Harrow appears to command a large number of dedicated followers, each of whom unwaveringly bows before him in the trailer. 
In a recent interview with Entertainment Weekly, Hawke was fairly tightlipped on his upcoming role (perhaps Kevin Feige was lurking somewhere within earshot?). Still, he couldn't help, but tease a few details about his mysterious new MCU character.
Hawke says his character is inspired by Carl Jung and David Koresh
In an interview with Entertainment Weekly, Hawke was candid about his previous reluctance to jump into the MCU. "I was always a little apprehensive," Hawke said. "There's a certain kind of actor that really excels in that universe, and I'm still not sure I'm one of them." Interestingly, he also revealed that all it took to convince him to give the MCU a try was a short conversation over coffee with Oscar Isaac. While it's unclear exactly what details in their conversation changed Hawke's mind, we can speculate based on what little we know about Hawke's role.
In the "Moon Knight" comics, Arthur Harrow is first introduced as a Nobel Prize candidate for his research in the field of pain theory in Volume 2, Issue #2 (via Fandom). While many hail Harrow as a hero, it is eventually discovered that much of his research originates from shocking experiments conducted at the Auschwitz-Birkenau concentration camp. Such an anecdote is noteworthy, considering Hawke's comparison of Harrow to Swiss psychiatrist Carl Jung and Branch Davidian cult leader David Koresh. Hawke seems confident that this unique combination of researcher and religious fanatic will make for a compelling on-screen presence.
"The uber-rich villain mastermind isn't interesting to me," Hawke said. "I love the ones who believe that they're a good person and that's why they have to kill you. That I find really terrifying."
"Moon Knight" premieres exclusively on Disney+ on March 30.