The Untold Truth Of Louie Anderson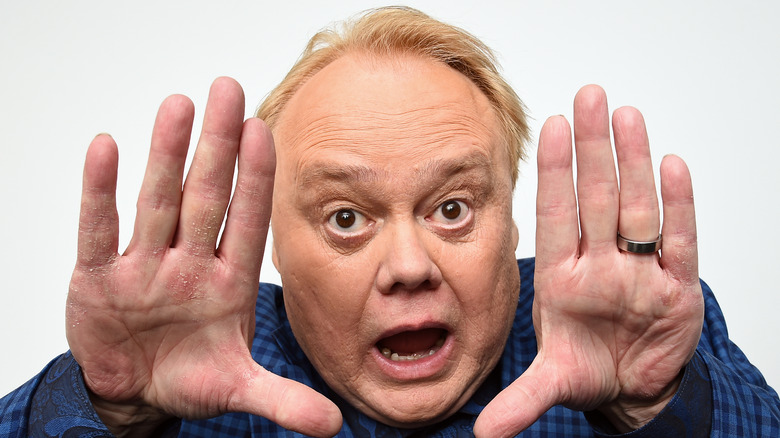 Ilya S. Savenok/Getty Images
For some actors, starring in movies and shows is nothing more than a job to collect a paycheck. However, some actors treat the screen like a canvas, as if what they're doing –– the art they're creating –– will resonate with audience members for years to come. Louis Perry Anderson (better known as Louie Anderson) was one such actor.
In heartbreaking news, Anderson passed away on January 21, 2022, from cancer complications at the age of 68. Anderson was one of 11 children, though he is survived by his sisters, Lisa and Shanna Anderson.Though he's known for gracing the TV set with his recent role in "Baskets," his acclaimed career spans decades, from actor to author, game show host to stand-up comedian. Although Anderson's career is well-documented, and he has been in the limelight for years, there's so much depth and detail to his storied life and career that fans might not know about. In honor of his legacy and passing, here's the untold truth of Louie Anderson.
Anderson was a counselor for troubled children before his comedy career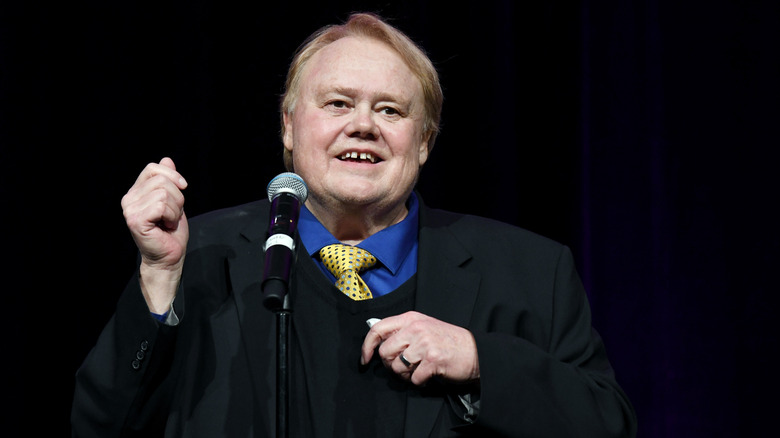 Ethan Miller/Getty Images
It's always interesting to see how celebrities paid the bills before becoming famous, and Louie Anderson has quite the prequel story (if you will). Before getting his big break in comedy and acting, Anderson was a counselor for troubled children (per Deadline). Of course, Anderson would go on to grace the screen with his presence, which, in a way, is therapeutic, as he provides laughs and entertainment to the masses via his characters and acts. Without a doubt, Anderson is the definition of a class act.
Anderson had a legendary career, was overflowing with charismatic qualities, and helped young people in need. The fact that he was a counselor for troubled children before hitting the comedic stage isn't surprising given his lust and giving spirit for life, yet it's still interesting an interesting fact to learn about his career lineage.
He was hired as a writer by Henny Youngman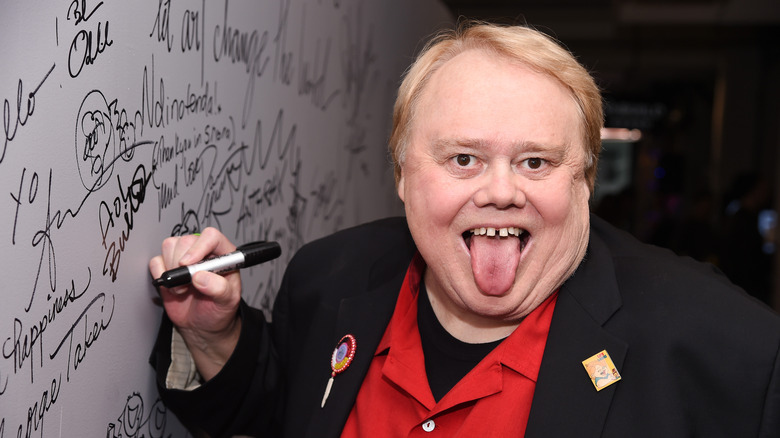 Dave Kotinsky/Getty Images
Louie Anderson got his big break in the comedy world at the 1981 Midwest Comedy Competition after taking home the first-place prize (via Deadline). Henny Youngman, who hosted the event and was famous for his perfection of the "one-liner," hired Anderson as a writer.
Though Anderson had a knack for comedy before becoming a writer for Youngman (he won a comedy competition, after all), knowing people in the industry tends to launch professionals' careers. Anderson would become a successful comedian, writer, author, and game show host to boot. Given his talents, he probably would have gotten his break at some point, but who knows what would have happened if Youngman wasn't a judge at the 1981 Midwest Comedy Competition. Luckily, we don't have to ponder that outcome, as Anderson took advantage of his golden opportunity.
Anderson made his network debut as a comedian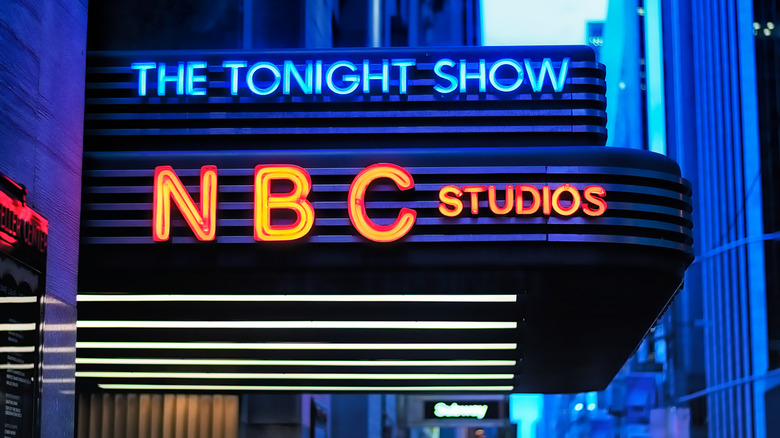 Dan Hanscom/Shutterstock
In 1984, three years after the Midwest Comedy Competition, Louie Anderson made his network debut as a stand-up comedian on "The Tonight Show" (via Deadline). That's a big deal, to say the least, especially in 1984, when the one and only Johnny Carson was hosting the show. Though appearing on "The Tonight Show" doesn't guarantee prolonged success, it can certainly help launch someone's career. If nothing else, an appearance can help guests gain national attention and momentum, and that's exactly what it did for Anderson.
Anderson had a marvelous career –– or should we say careers, as he was successful in various different professions. His most recent solo stand-up special came in 2018 and is titled "Louie Anderson: Big Underwear." Nevertheless, 1984 was the year he made his comedic talents known on "The Tonight Show," and for years to come, his stand-up bits would thrive.
He appeared in Ferris Bueller's Day Off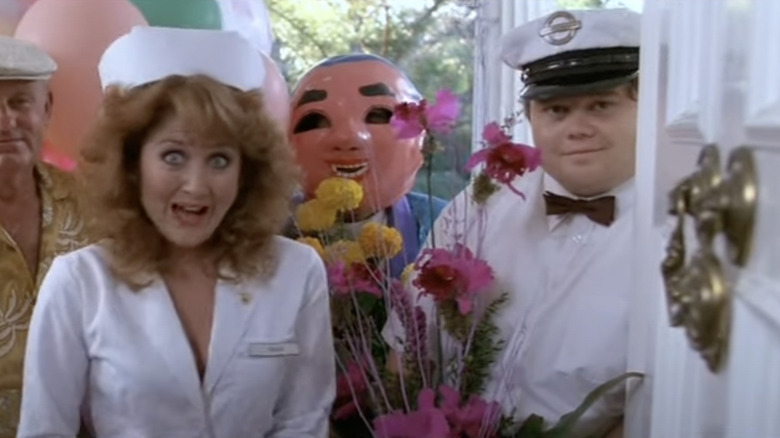 Paramount Pictures
The 1986 comedy "Ferris Bueller's Day Off" is, by all accounts, a classic. The film famously stars Matthew Broderick, Mia Sara, and Alan Ruck, and it follows Ferris Bueller, a mischievous high schooler who will stop at nothing to enjoy his day off. Though the film stars Broderick's titular character, audience members probably didn't notice a special cameo during Ferris' triumphant day of skipping school.
Enter, naturally, Louie Anderson, who plays a flower deliveryman. Anderson's character appears during a scene where a singing telegram is sent to Ferris' house to help him feel better. The only thing is that Ferris' sister, Jeanie Bueller (Jennifer Grey), answers the door –– because Ferris is, of course, skipping school and isn't actually homesick. Anderson's character can be seen briefly on the right side of the screen during this scene. It's the little details that really help a movie stand out.
He won two Daytime Emmy Awards for his role in Life With Louie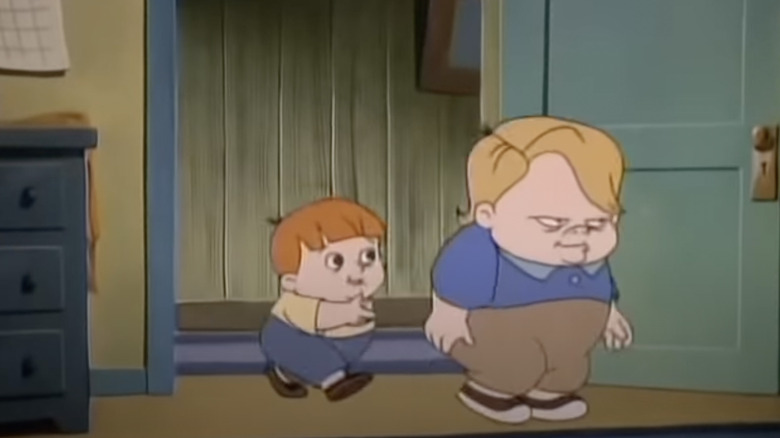 20th Century Fox Television
If you've followed Louie Anderson's career over the years, you likely know that he created an animated TV series, "Life With Louie," based on his childhood. What you might not remember, however, is that the show won two Daytime Emmy Awards during its run, both for Outstanding Performer in an Animated Program for Anderson's performance. "Life With Louie" also won the Humanitas Prize three times, for good measure.
"Life With Louie" was successful to the tune of three seasons and 39 episodes and ran from 1994 to 1998. Though the animated series didn't air forever, it left its mark on the TV world, and Anderson's career jubilantly continued. If his career had stopped here –– which it didn't –– it would have been considered a success. Unfortunately, his life wasn't necessarily smooth sailing forever as a disastrous event crossed his path off the screen.
He was once blackmailed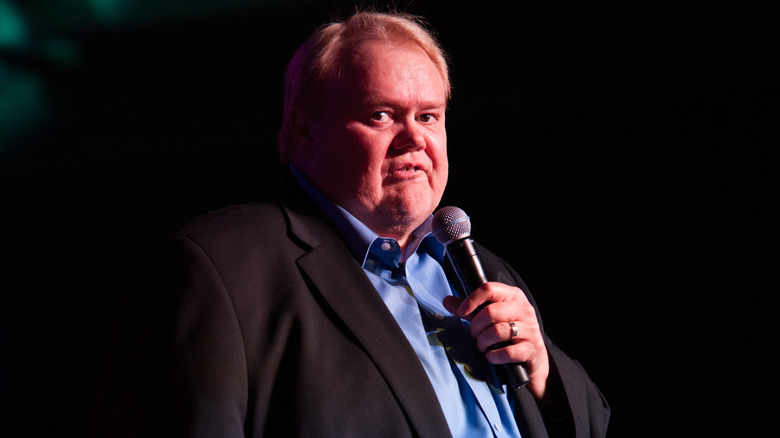 Randy Miramontez/Shutterstock
Life is all about the ups and downs and trying to navigate the trials and tribulations that come our way. Though Louie Anderson's career was booming by all measures, he wasn't a stranger to roadblocks. According to the Los Angeles Times, a man named Richard John Gordon blackmailed Anderson beginning in 1997. Gordon threatened to tell the tabloids that Anderson offered him money for sexual favors. Though Anderson initially paid the man money, Gordon has since been charged with extortion.
Luckily, not even blackmail could stop Anderson from continuing his career, and this incident would only be a minor speedbump along the way. In fact, the best was arguably yet to come for Anderson, as he still had appearances in shows ahead, as well as standup specials to create and books to write. He'd even have a role in one of Eddie Murphy's most famous movies to date.
He got a role in Coming to America after picking up Eddie Murphy's $600 tab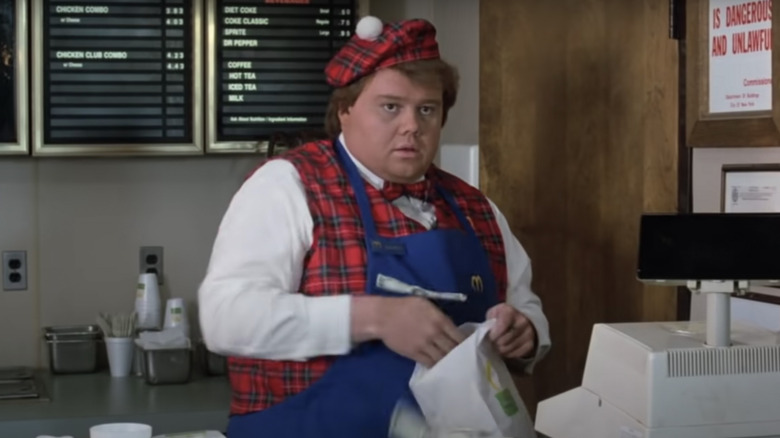 Paramount Pictures
People will do rather wild things to land their dream jobs, and people in the entertainment industry are no exception. Avid fans might remember that Louie Anderson had a small role in "Coming to America," yet they might not recall how Anderson landed that role (or at least, one of the reasons why he was chosen to star in the movie).
Anderson picked up Eddie Murphy's restaurant tab ... and the rest, as they say, is history. "I knew him as a comic, but we didn't hang out together," Anderson explained to Backstage in an interview. "He came in and had about five or six people with him, and I said to the waiter, like any good Minnesotan would do, 'Hey, put Eddie's check on my American Express, but don't tell him I did it until after I leave. I'm not doing it to be a showoff.' And then I got a call the next day that that was a really nice thing and Eddie wants you to do a part in 'Coming to America.' The bill was $661. You should do nice things, my mom taught me."
As luck would have it, Anderson didn't only appear in "Coming to America," but he reprised his role in the 2021 sequel, "Coming 2 America." Without a doubt, it pays to be kind. And it also pays to know Eddie Murphy.
He wrote four books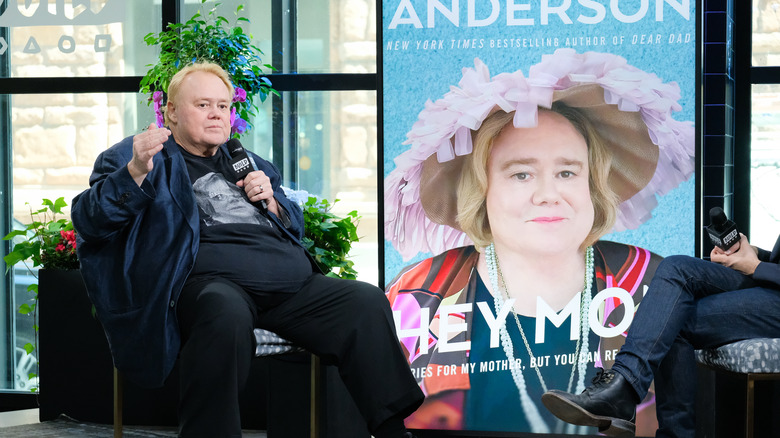 Matthew Eisman/Getty Images
At this point, you might be wondering: What did Anderson not accomplish in the entertainment world? He succeeded in TV, movies, and stand-up. Yet there's another industry you might not know he conquered: the publishing industry. Louie Anderson wrote not one, not two, not three, but four books. His books included "Dear Dad: Letters from an Adult Child," "Good­bye Jumbo ... Hello Cruel World," "The F Word: How to Survive Your Family," and "Hey Mom: Stories for My Mother, But You Can Read Them Too."
Four written –– and then published –– books would be a successful career for anyone, yet Anderson's books are in addition to his many specials, appearances, and acting and stand-up roles. He unquestionably took advantage of his talents across different genres. Throughout the many life lessons he maps out in his books, he arguably helped countless people deal with struggles similar to the ones he detailed in the pages.
Anderson hosted and appeared as a contestant on Family Feud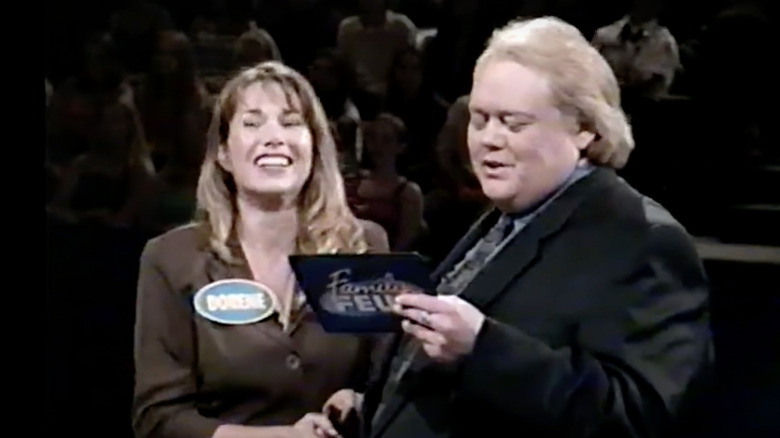 Viacom Enterprises
Hosting or appearing on "Family Feud" are worth accolades by themselves, yet Louie Anderson managed to do both –– because of course he did. Anderson was the host of the show from 1999 to 2002, and he went from host to contestant in his 2017 appearance on "Celebrity Family Feud" (via Deadline). Not many people can say they both hosted and competed on the show, and it's not surprising that Anderson managed to do so.
Looking back at Anderson's career, it's amazing to think that he was a game show host on top of being an actor, author, and comedian. Yet his greatest achievement (depending on who you ask and the metric used to measure success, that is) arguably came later in his life when he appeared on "Baskets," a comedy-drama TV series starring Zach Galifianakis.
His role as Christine Baskets was the role of a lifetime
For his performance as Christine Baskets in "Baskets," Louie Anderson received three Primetime Emmy Award nominations for Outstanding Supporting Actor in a Comedy Series, and he took home the hardware in 2016 — the perfect capper for a time-honored career.
On top of an Emmy performance for his role as Christine Baskets — a character who's based on his mother and sisters (via FX) — Anderson finally made it to the top of the pedestal. "At 62, I got the role of a lifetime," Louie Anderson told Variety. He continues, "I always thought I would have to be older to play the parts that would suit me the best. I just didn't know it would be my mother."
Though Louie Anderson's role in "Baskets" is the perfect capstone to his career, he had countless performances and achievements that are worth celebrating — performances and achievements that span on and off the screen.