The Real Reason Diane Kruger Fought To Get A Role In This Quentin Tarantino Hit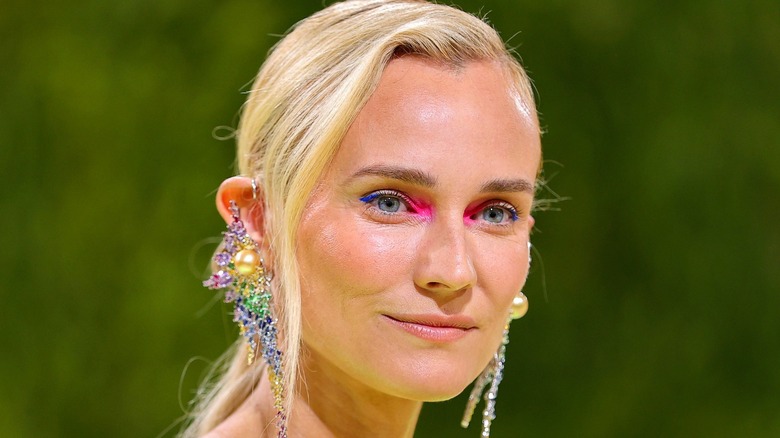 Theo Wargo/Getty
Quentin Tarantino has been one of Hollywood's most celebrated and controversial directors since "Reservoir Dogs" was first screened at the Sundance Film Festival about three decades ago. The filmmaker has been lauded for infusing his non-linear narratives with engrossing chatty dialogue and his encyclopedic knowledge of movies and popular music. Many critics have hailed his works like "Pulp Fiction" as masterpieces of American cinema. Since Tarantino is so acclaimed, several actors have clamored to work with him and are even willing to follow his specific on-set rules.
A lot of A-listers have appeared in Tarantino's oeuvre over the years. Brad Pitt starred in the auteur's most recent feature "Once Upon a Time...In Hollywood" and 2009 war film "Inglourious Basterds," which reunited Pitt with his "Troy" costar Diane Kruger. The actress gained considerable fame as Abigail Chase in "National Treasure" and its 2007 sequel "National Treasure: Book of Secrets" before she was in Tarantino's genre-bending revisionist take on World War II. 
Kruger's character, Bridget von Hammersmark, is a German movie star who becomes a spy for the Allies. Kruger is remarkable as Bridget and was even nominated for a SAG award for Outstanding Performance by a Female Actor in a Supporting Role, which is why it is surprising that Tarantino originally did not want to cast her in "Inglourious Basterds."
Diane Kruger fought for her role as Bridget von Hammersmark to prove Quentin Tarantino wrong
While actors often fight for parts they want, Diane Kruger certainly went the extra mile. According to Variety, Kruger was a recent guest on the podcast "Reign with Josh Smith." The "355" star told the host she had to jump through a myriad of blazing hoops before Quentin Tarantino allowed her to play Bridget von Hammersmark. The Oscar-winning writer-director rejected Kruger's request to audition for "Inglourious Basterds" because he did not care for one of her films. The only reason she got the chance to read for Bridget "is because there was no one left to audition."
Kruger said she had to fly from New York to the audition in Germany on her own dime since Tarantino would not compensate her for traveling expenses. "I'm just gonna do that and prove to him that I can do it," Kruger recalled. While Kruger faced daunting obstacles between her and Bridget von Hammersmark, she surmounted them to become a cast member in "Inglourious Basterds." 
She certainly proved Tarantino wrong. "Thankfully it all worked out but sometimes it just seems so unfair and you've gotta change the narrative," Kruger said. Kruger's tenacity and dedication are inspirational, proving that it is possible to get what you want by being determined and standing up for yourself.