Here's What Lucas Cruikshank From Fred Is Doing Now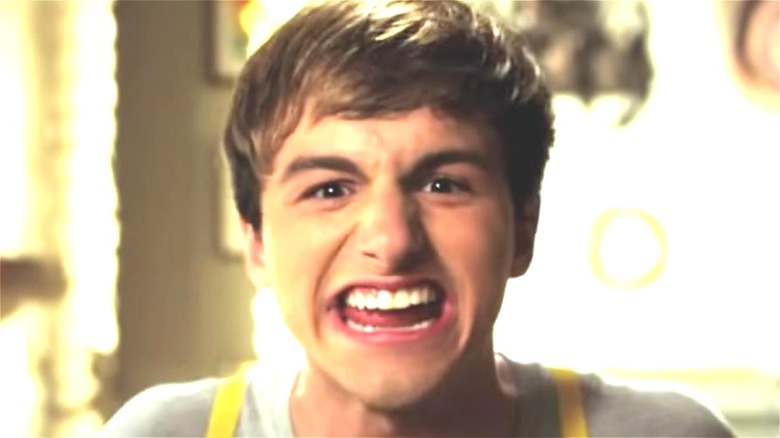 Youtube
Lucas Cruikshank created the iconic character of Fred over a decade ago, opening his YouTube channel in 2005. Back in the early years of YouTube creators, Fred was a channel uploading silly, short videos playing the over the top character. Fred spoke with a very high — almost annoying — pitch at a very fast speed and seemed to always be stuck in some sort of existential crisis.
In 2009, Nickelodeon saw the potential in Cruikshank and the character of Fred and gave him a cameo in an episode of "iCarly" titled "iMeet Fred." Following this, in 2010, Nickelodeon premiered "Fred: The Movie" starring Cruikshank and Jennette McCurdy – as well as a random cameo of John Cena as Fred's father. This TV movie spawned a whole franchise, with two film sequels and "Fred: The Show" in 2012. "Fred: The Show" only lasted one season, running for 24 episodes. 
So, fans may now be wondering what Cruikshank is up to now. Here's the update.
Cruikshank has retired Fred, but is still active
After "Fred: The Show," Cruikshank did one more project with Nickelodeon. Premiering in 2012, he starred in the sitcom "Marvin Marvin." The show aired until 2013, with Cruikshank playing an alien boy named Marvin living with a human family after having to flee his home planet.
However, after "Marvin Marvin" came to an end, Cruikshank abandoned Nickelodeon to pursue other endeavors. During his Nickelodeon stint — and after — Cruikshank was a part of a YouTube duo channel named "Lucas and Jenny" with actress Jennifer Veal. The two uploaded fun videos together, but in 2014 Veal left the channel (via J-14).
Cruikshank changed the channel name to simply "Lucas" and continues to upload videos today. So, it appears Cruikshank has found himself right back at home on YouTube. This comes as no surprise, as he was one the first original creators on the platform, but he now appears as himself and has completely retired the Fred character.