The Character Everyone Forgets Sarah Michelle Gellar Played In She's All That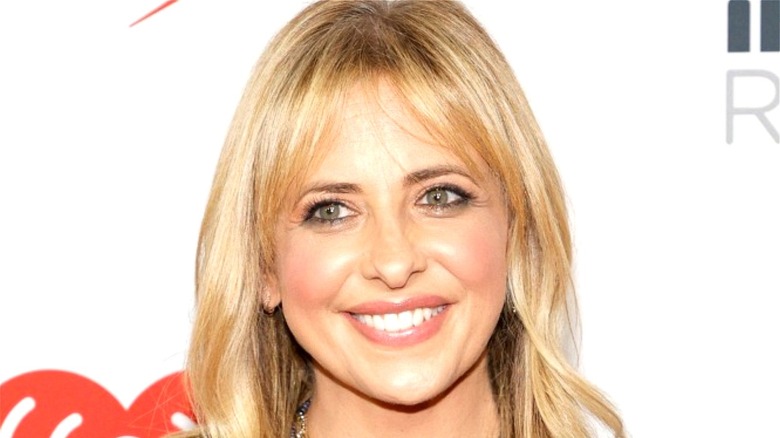 Amy Sussman/Getty
It's safe to say Sarah Michelle Gellar (also known as Sarah Michelle Prinze) dominated the '90s entertainment scene. Best known as the titular demon killer on Joss Whedon's "Buffy the Vampire Slayer," the actor at one time seemed to be omnipresent, starring in hit film after hit film between 1997 and 1999 (via IMDb).
Gellar's big break arrived in 1993, when she was cast as Kendall Hart on the decades-long soap opera "All My Children" (via TV Insider). The role fast-tracked her to superstardom, and it wasn't long before she landed the role of wisecracking, stake-wielding superhero Buffy Summers. "Buffy," which ran from 1997 to 2003, was named by Rolling Stone as among the 100 best television shows of all time and cemented Gellar as a TV legend by the time she had reached her early 20s.
But Gellar wasn't content to rest on her vampire-slaying laurels. During "Buffy"'s run, she starred in the slasher flick "I Know What You Did Last Summer" opposite fellow '90s heartthrob (and her future husband) Freddie Prinze Jr., the horror movie "Scream 2," and the dark comedy "Cruel Intentions." By then an established "it girl," Gellar also went on to accumulate some memorable guest spots, including a bit role in the quintessential 1999 teen makeover flick "She's All That," which, coincidentally, also starred Freddie Prinze Jr.
Sarah Michelle Gellar played Girl in Cafeteria in "She's All That"
Long before Addison Rae starred in the gender-swapped reboot, '90s teens swooned over the unlikely romance in "She's All That." Freddie Prinze Jr. plays Zack Siler, a high school jock who bets he can turn resident art geek Laney Boggs (Rachel Leigh Cook) into a prom queen. Though by no means an original premise, the film's soundtrack, bombshell celebrity lineup, and choreographed dances made it an instant teen rom-com classic. It launched Sixpence None the Richer's "Kiss Me" to the top of the charts (via Billboard) and featured breakout performances from rising stars like Lil' Kim, Usher, and Kieran Culkin.
One cameo you may not remember is Sarah Michelle Gellar, who played the role of a girl sitting in the high school cafeteria. Gellar was unintentionally drafted into the part while visiting Prinze Jr., whom she had befriended while co-starring in "I Know What You Did Last Summer," on set and agreed to do it on the condition that she wouldn't have any lines (via Vogue).