The Last TV Show Louie Anderson Was In Before He Died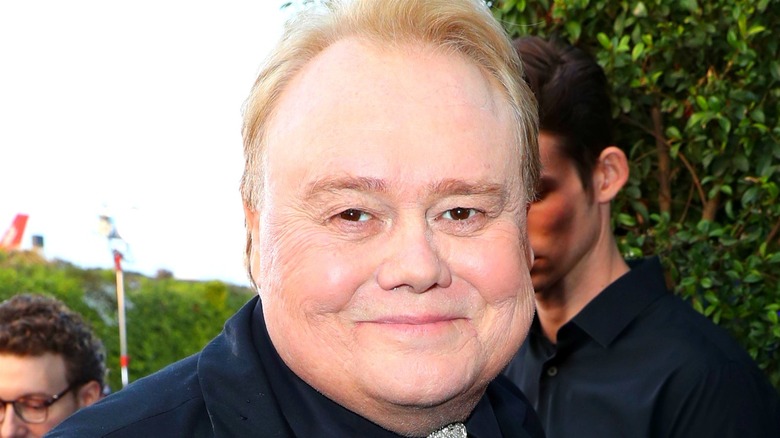 Jonathan Leibson/Getty
The entertainment world has lost a true legend. Louie Anderson, best known for his stand-up routines as well as his television roles in the likes of "The Louie Show," "Life with Louie," and "Baskets," died at the age of 68. It came as an unexpected blow to many of his fans, who remember him fondly, whether for his stint as the host of "Family Feud" or for his role in "Coming to America" and its sequel. Louie Anderson touched the lives of many from multiple generations, and it's all the more impressive when considering he continued to work until fairly recently.
Plenty of people became re-introduced to the actor for his recurring role of Bob Lunch on the immensely underrated "Search Party." Anderson perfectly embodied the character's clueless nature, and only the iconic sitcom actor could make something like looking up the definition of "pancake" in the dictionary so laugh-out-loud hilarious. However, that wasn't his final TV role. That distinction goes to another underrated classic that deserves a wider audience — "Twenties."
Louie Anderson's final TV role was Maurice on Twenties
Louie Anderson's final episode of television — "Everything" on BET's "Twenties" — aired on November 3, 2021. Anderson played Maurice, a delivery driver for the fictitious BDE who trains Hattie (Jojo T. Gibbs). The two have a hilarious interaction while on a route together, but ultimately, Maurice decides not to extend a job offer to Hattie because she spends too much time on her phone. It's a humble, down-to-earth performance that cements Anderson as an immeasurable comedic talent. 
After the announcement of the actor's passing, the show's creator, Lena Waithe, took to Instagram to talk about the actor's legacy and how she was honored to work with Anderson. She posted, "Thank you for gracing us with your wonderful presence, Louie. You were so kind and funny. After your first table read with us you sweetly said, 'Beautiful writing' and I'll never forget it — because your opinion meant so much to me. May you rest peacefully. And thanks for everything."
Under the post, others chimed in with their thoughts, writing, "He was a legendary comic and will be missed!" and "a legend! peace & light." Our thoughts go out to all of Louie Anderson's loved ones at this time.