The Young Sheldon Character People Might Forget Louie Anderson Played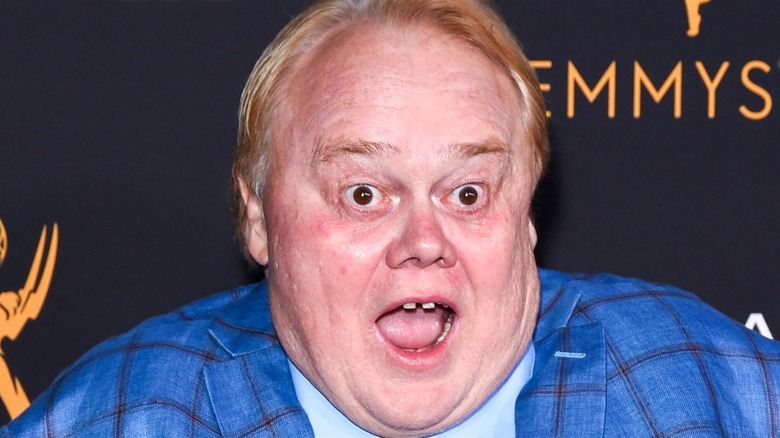 Presley Ann/Getty
The death of renowned comic and actor Louie Anderson on January 21, 2022 has, naturally, prompted fans with varying levels of familiarity to reflect on his formidable body of work. Though Anderson has worked in the film industry since the '80s (via IMDb) — including a gig hosting "Family Feud" in the early 2000s — he continued to perform regularly on TV and in occasional film roles even into 2021.
In fact, perhaps Anderson's most acclaimed role as an actor came later in life. For his work as the mother of Zach Galifianakis' titular character in dark comedy "Baskets," Anderson won an Emmy for Best Supporting Actor in 2016. The ability to continue to garner such acclaim is plenty indicative of Anderson remaining a vital talent over the course of virtually the entirety of his body of work.
Given Anderson's late career-defining turn in "Baskets," it can be easy to forget some of his other recent TV acting gigs, which include a cameo appearance in an episode of "Big Bang Theory" spinoff "Young Sheldon."
Louie Anderson is a trophy shop owner in Young Sheldon Season 3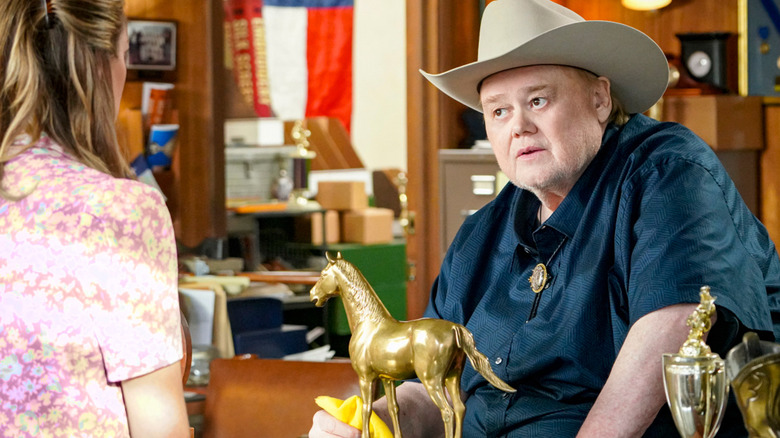 Bill Inoshita/CBS
Louie Anderson appears in the 17th episode of "Young Sheldon" Season 3, titled "An Academic Crime and a More Romantic Taco Bell," which premiered in 2020 (via IMDb). Anderson factors into a storyline in which Mary (Zoe Perry) attempts to purchase trophies for the baseball team of which her daughter and Sheldon (Iain Armitage)'s sister Missy (Raegan Revord) is a part.
Mary's first instinct is to check a local trophy shop, which, as it turns out, is staffed by a man in a cowboy hat named Ralph, portrayed by Anderson. Right off the bat, Ralph treats the bright and bubbly Mary with aggressive indifference. Then, when Mary points out the lack of even a single baseball trophy with a figure of a girl on it, Ralph claims that "girls don't play baseball." Mary, rightfully, leaves the store angry. Later on in the episode, she returns to request that Ralph make a custom set of girls baseball trophies, before quickly backing out after she learns that the mold alone would set her back $50.
In just these two scenes, what could have been more-or-less a background character in less capable hands becomes a lifelike villain thanks to Anderson's incomparable presence.