Louie Anderson's Best Role Was One Of His Last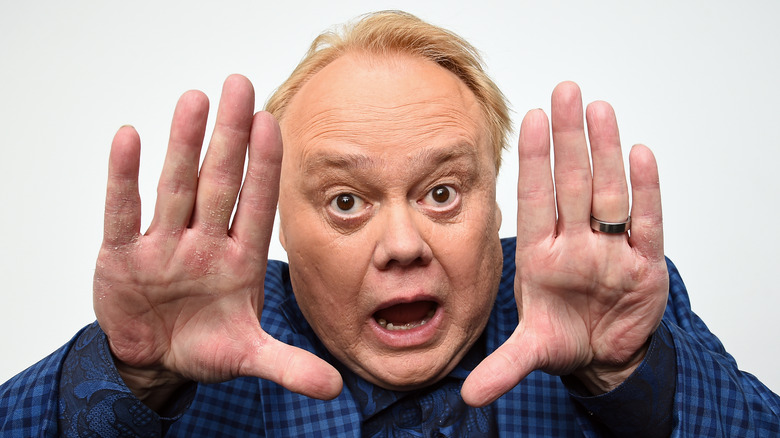 Ilya S. Savenok/Getty Images
Louie Anderson was a versatile and emotive comedian and performer. Known for his work on "Coming to America," "Life with Louie," and "Family Feud," the famous actor and author also made several appearances on television shows in supporting roles or as a cameo in series like "Tom Goes to the Mayor," "Scrubs," and "Grace Under Fire." As a result, Anderson definitely left his own quirky mark on popular culture.
Anderson was always working, and in between his appearances on comedy specials and television shows and writing books, he also ran a stand-up series in Las Vegas from 2003 to 2012. He got his start on "The Tonight Show" in 1984, and continued working until 2021's "Coming 2 America," which would turn out to be his final appearance in a feature film. 
Many of Anderson's credits stand out, but what is likely his best performance actually came a bit later in his career, in a role that earned the comedian several awards for his efforts.
Louie Anderson's role on Baskets earned him critical acclaim
"Baskets," the popular dark comedy show from FX that ran for four seasons between 2016 and 2019, stars Zach Galifianakis as twin brothers Chip and Dale Baskets. Chip yearns to become a clown someday. Unfortunately for Chip, things rarely go his way as he is rejected from a famous Parisian clown school and has to work at a local rodeo in dusty Bakersfield, California. Needless to say, "Baskets" is rarely short on situational and awkward comedy.
Louie Anderson plays Christine Baskets, who is the mother of the twins. With his trademark high-pitched inflection, Anderson's Christine endeared herself with a combination of sharp wit and perfect timing. Anderson went on to be nominated eight times for the role, and managed to win a Critics' Choice TV Award for Best Supporting Actor in a Comedy Series, and a Primetime Emmy for Outstanding Supporting Actor in a Comedy Series (via IMDb). 
Anderson's passing is truly tragic, but the laughter he created will always live on.