The Real Reason Daniel Radcliffe And Emma Watson Didn't Quit Harry Potter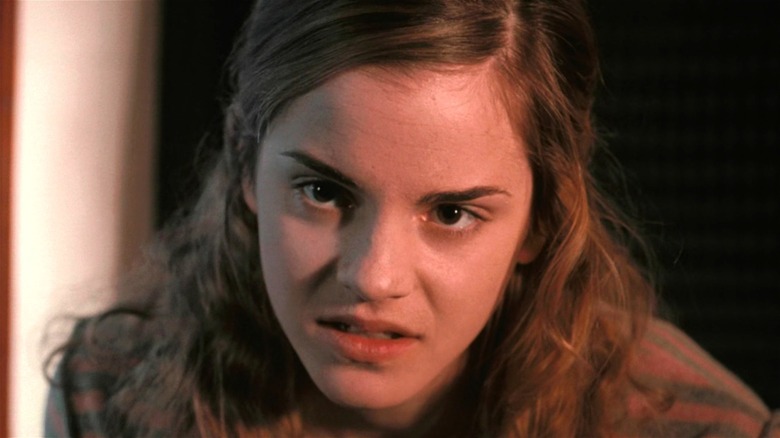 Warner Bros.
At this point, the "Harry Potter" franchise is deeply ingrained in the fabric of global pop culture. The bestselling books were turned into blockbuster movies that raked in over $9 billion at the box office (via The Numbers). Throw in some spin-offs, theme park attractions, and other tie-in media, and it's safe to say that the "Harry Potter" franchise has cast a spell over just about everyone.
The "Harry Potter" movies also changed the lives of Daniel Radcliffe, Emma Watson, and Rupert Grint forever. Growing up in the public eye as Harry, Hermione, and Ron, respectively, the trio became overnight sensations who made us laugh, cry, and cheer for eight movies across the span of a decade.
However, to quote the wise Professor Snape (Alan Rickman), "Fame isn't everything." Being part of a hit movie franchise wasn't always a walk in the park for the actors, and the aforementioned stars even came close to quitting. What possessed them to even ponder such a decision, and what made them decide to stick around?
The young Harry Potter stars stuck in it for the fans and each other
The recent special "Harry Potter 20th Anniversary: Return to Hogwarts" saw the old gang reunite for a catch-up session, sharing their fondest memories of working on the franchise. At the same time, they also shared some stories about the more difficult moments.
Emma Watson recalled feeling "lonely" and wanting to return to a normal life, having grown tired of the constant media attention. "I think I was scared," she revealed (per SlashFilm). "I don't know if you ever felt like it got to a tipping point where you were like, this is forever now." This revelation echoed comments that Watson made in a 2013 interview with Glamor, in which she stated that she wanted to leave the franchise to attend university.
Rupert Grint and Daniel Radcliffe recalled similar feelings of unease, but as Radcliffe noted, the stars were simply too young to ask each other, "'Hey, how are you doing? Everything ok?'"
So, what kept Watson, Radcliffe, and the rest of "Harry Potters" young stars from exiting the franchise? It appears that for Watson, it was a mix of support from the franchise's fans, as well as the friendships forged among her fellow actors. "The fans genuinely wanted it to succeed," she said. "And we all genuinely have each other's backs. How great is that?"